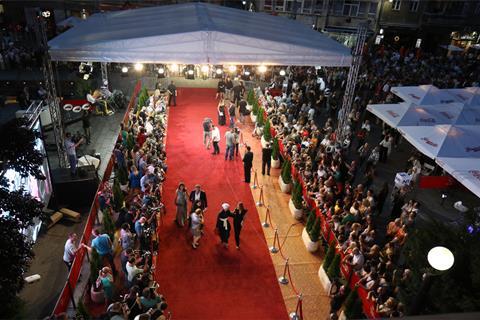 The head of the Sarajevo Film Festival has declared there is "no doubt" the event will take place in August while organisers at the Jerusalem Film Festival have postponed the 2020 edition due to the ongoing coronavirus pandemic.
The festival calendar has been thrown into disarray following the Covid-19 outbreak, with events cancelling on an almost daily basis as distancing measures continue to prevent mass gatherings. The uncertain fate of this year's Cannes Film Festival has also led to confusion throughout the industry as to when and where films will be showcased on the circuit.
But the team at Sarajevo is determined to overcome the chaos caused by the virus crisis and host a modified version of the festival from August 14-21.
SFF festival director Mirsad Purivatra told Screen: "We launched our festival during the Siege of Sarajevo in 1995 when there were bombings, snipers and no food, water or electricity. To host an online version of the festival would betray our mission even in the face of this invisible enemy. So there is no doubt the Sarajevo Film Festival will be able to answer the Covid-19 situation creatively."
Purivatra said his team is working on how screenings would take place during the 26th edition of the festival, which would place an emphasis on "keeping our visitors and cinema lovers safe, while following the instructions of our epidemiologist".
He also said the festival's competition line-up was "something we will keep a top priority because Sarajevo offers a fantastic platform for films that have not yet been released". French director Michel Hazanavicius (The Artist) has already been tapped to lead the as-yet-unnamed jury.
Sarajevo is the capital of Bosnia and Herzegovina, and is one of south-eastern Europe's leading film events. The festival draws up to 100,000 visitors and last year screened films including Parasite and Pain And Glory, closing with Quentin Tarantino's Once Upon A Time… In Hollywood.
Sarajevo, along with the rest of Bosnia and Herzegovina, has seen the closure of all venues such as restaurants and cinemas as well as a ban on public gatherings and a curfew from 8pm until 5am. While out, everyone is required to wear a face mask.
SFF head of industry Jovan Marjanović said he expected to see a large reduction in the 1,300 delegates that attended last year's professional platform but did intend to run physical events parallel with an online element, with a focus on younger "less at risk" participants.
"While it is easier for our seasoned professionals not to travel during this crisis, I think younger professionals – who are less at risk of this virus – are eager to travel again and see each other," said Marjanović.
"Their projects and needs will be the focus of our industry section this year along with our Talents programme, for which we have already received a record number of submissions.
"I'm also certain there will be plenty of works-in-progress projects, especially with other festivals not happening. It's not realistic to think all our delegates will be back this year but on the level of the region and young professionals, I believe they will make their way to Sarajevo to participate as our platform remains the major meeting place for the film industry in this part of the world."
There have been 1,368 confirmed cases of coronavirus reported in Bosnia and Herzegovina to date and 53 deaths. Sarajevo, the largest city in the region, has reported 60 cases from its population of 275,000.
"Everyone in the city is seeing the festival as a turning point and new beginning for Sarajevo," added Purivatra. "The festival may be smaller than usual but it will certainly be unique."
Locarno, Karlovy Vary plans on hold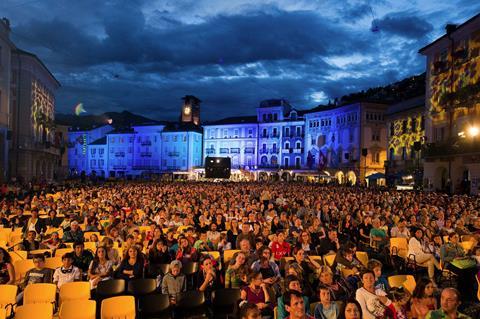 Meanwhile, the Locarno Film Festival has yet to announce plans for its 2020 edition, set to run August 5-15.
A spokesperson told Screen its management and artistic direction team were still assessing their options and that details of potential plans could be unveiled in the next two weeks.
The festival's last official communication dates back to April 10, following a remote meeting headed by Locarno president Marco Solari to examine various scenarios. At that point, the festival said it was waiting to learn what sanitary stipulations would be imposed on a canton and federal level and expressed its solidarity with the film industry.
It said it hoped that Locarno would be a place of "meeting and discovery" once again this year but emphasised it was difficult to predict the future amid the ongoing crisis.
The Swiss federal government announced last week that it would start to ease Covid-19 restrictions from April 27, in a move that would see shops and schools open. However, no decision has yet been taken on large gatherings.
In the meantime, a number of top Swiss summer events such as Paléo Festival Nyon and Montreux Jazz Festival, which would have both taken place in July, have already been cancelled.
In the backdrop, the southern Swiss canton of Ticino, where Locarno is situated, has been one of the areas hardest hit by Covid-19 in Switzerland, which has caused local authorities to impose tougher restrictions than in the rest of the country.
In addition, Karlovy Vary, which has established its place as one of the leading film festivals in central and eastern Europe, has yet to reveal details of its 55th edition. The festival in the Czech Republic spa town, set to run July 3-11, will unveil contingency plans at a press conference next Tuesday (April 28).
Jerusalem postpones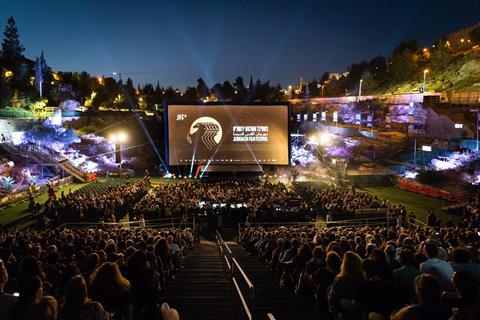 While Sarajevo is moving forward with its August dates, and both Karlovy Vary and Locarno prepare to declare their intentions, Israel's Jerusalem Film Festival has made the decision to postpone this year's edition, which had been scheduled to run July 16-26.
Noa Regev, executive director of JFF and the Jerusalem Cinematheque, and JFF artistic director Elad Samorzik are exploring "all options" with the festival's board of directors, including finding new dates in Q4.
"We have outlined several other dates and we are assessing the pros and cons for each of them with our board of directors," Samorzik told Screen. "Obviously it's not an easy task as everything is based on assumptions and we don't know yet how strong the pandemic will hit in a few months and which limitations will still be in place."
While Israel's measures have vacillated between strict nationwide lockdown and a municipality-targeted approach, cinemas (including the Cinematheque where most JFF screenings and events take place) remain closed. As of April 22, Israel had 14,326 confirmed coronavirus cases and 187 deaths.
Samorzik has been building his programme since the 2019 fall festivals, and remains in discussion with sales agents, producers and filmmakers. But Cannes has long been a linchpin for the JFF line-up, and the continuing uncertainty around it was a key factor in moving the 37th edition of Jerusalem out of the summer.
"The situation with Cannes has really shaken up the industry," said Samorzik. "Cannes is such an important pillar and its absence will affect everyone. Now, all eyes are set on Venice and the other major fall festivals. We all hope that they could take place as planned and will accommodate world premieres of many finished films, which are looking for their launching point, including those which were aiming for Cannes."
For Samorzik and Regev, hosting a physical event remains a priority but they are exploring the option of putting some screenings online.
"Creating a physical hub for discussion about cinema is crucial for us," he said. "At the same time, we acknowledge the fact that some people will be afraid or won't be able to join us like before, so we might consider having a digital platform with some of the films."
Whether they are able to use the Sultan's Pool, the 6,000-seat, outdoor arena that hosts JFF's opening night screening, is a decision that will rest with local authorities and restrictions that are in place at that time.
The annual Pitch Point event – a co-financing event to connect Israeli filmmakers to international partners – will remain part of the 2020 edition and Samorzik is hoping to have a signficant industry platform.
"But it will depend on the situation of the civil aviation at the time of the festival and whether we could bring a sufficient number of industry delegates to Jerusalem."