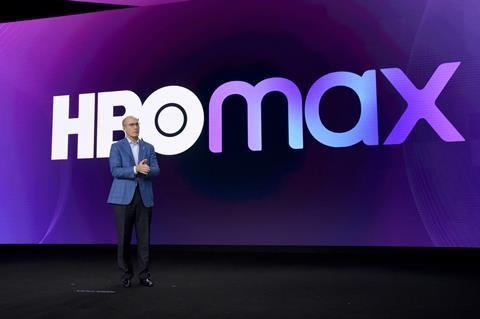 The HBO Max streaming service will launch in the US in May 2020 with a monthly subscription rate of $14.99 (£11.65), WarnerMedia revealed on Tuesday (29) in an unveiling of the service for financial analysts.
Outside the US, the company has plans for expansion in Latin America, which will get a localised version of the service in 2021, and Europe, where HBO has existing operations in Central Europe, the Nordics, Spain and Portugal.
Outside those markets, said WarnerMedia CEO John Stankey (pictured), the company will expand the service by "leaning on our licensing relationships with key partners in territories where we believe market conditions warrant a different approach."
Apparently confirming reports of a renewal of the licensing and co-production deal between the two companies, Stankey cited the example of HBO's relationship with Sky for the UK, Germany and Italy.
International expansion, said Stankey, "will drive economies of scale in content production and give us worldwide audience reach to attract the best talent and creative projects."
By the end of 2025, WarnerMedia is forecasting 50m HBO Max subscribers in the US and another 25m-40m across Latin America and Europe, for a global tally of 75m-90m.
International expansion plans to 'refine themselves over the course of the next year'
During a question and answer session, Stankey said the HBO Max international expansion plans "will refine themselves over the course of the next year," predicting that "the nature of the offering will be scaled down" and the subscription rate will be lower than in the US.
The two-and-a-half hour presentation on the Warner lot in Burbank was heavy on business data and lighter on glamour than recent streaming service presentations by Apple and Disney. Super-producer J J Abrams, whose Bad Robot recently signed a new film and TV deal with WarnerMedia, appeared on stage, but prolific producer Greg Berlanti and other talents appeared only on film.
The US price point had been widely predicted and confirms that HBO Max will be at the top of the price range of current and forthcoming streaming services. In the US, Netflix charges $9 (£7) a month for its basic service and $13 (£10) for its standard version. Amazon Prime Video is $9 (£7) and Disney-controlled Hulu is $6 (£5) with ads or $12 (£9) without.
Apple TV+, which launches on Friday (Nov 1) this week, will cost $5 (£4) a month, and Disney+, coming on November 12, $7 (£5) a month.
WarnerMedia executives also revealed that an advertising-supported option will be added to HBO Max within a year of launch and that in future the service will also offer live and interactive elements and special events.
HBO Max to offer 31 original series in first year, 50 in 2021
A handful of new original programming projects were announced at the event to add to a slate that has already added a number of series over recent weeks. Executives said HBO Max will offer 31 original series in its first year and 50 in 2021, with episodes being released mostly on a weekly basis rather than all at once.
Serialised sci-fi series Raised By Wolves, with Ridley Scott directing and serving as executive producer, will now premiere on HBO Max after being first announced for WarnerMedia linear cable channel TNT.
Warner Bros comedy feature, Bobbie Sue, with Gina Rodriguez, will make its debut on the service.
New series announced for HBO Max included half-hour comedy College Girls, with Mindy Kaling as writer and showrunner; comedy Rap Sh*t, with Insecure's Issa Rae as executive producer; and two DC comic-based series from Greg Berlanti, anthology Strange Adventures, and a strand based on the Green Lantern character.
Also announced was a deal that will make HBO Max the exclusive US streaming outlet for 23 seasons of adult animation hit South Park.
On the financial side, WarnerMedia executives said the company will invest $2bn in HBO Max next year, most of it in programming, rising to $4bn a year in 2024 and 2025. Domestic revenue from the service will reach $5bn by 2025, they said.