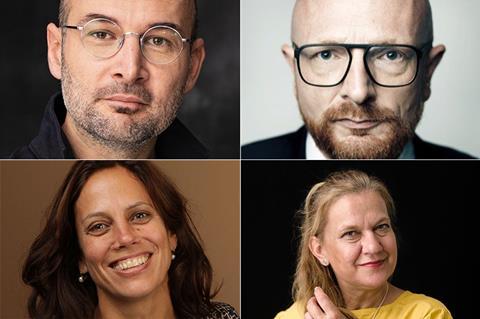 Screen International and Documentary Campus once again teamed up with the Sarajevo Film Festival (September 13-20) to host CineLink Talks, an online programme of panels for the festival's 2021 industry strand.
The series of 60-minute CineLink Talks ran from August 15-19. Topics included filmmaking during the pandemic, working with streamers, female filmmaker quotas, mental health in the film industry and new models for distribution; and masterclasses with filmmakers Mads Brugger and Alexander Nanau.
The talks are available to watch in full below.
In conversation with filmmaker Mads Brugger
Moderator: Damir Šagolj
What have producers learned from filmmaking during the pandemic? (presented by Documentary Campus)
Speakers: Ada Solomon (Romania), producer, Hi Film Productions and Micro Film, credits: Radu Jude's Bad Luck Banging Or Loony Porn, Călin Peter Netzer'sChild's Pose
Elizabeth Karlsen (UK), producer, Number 9 Films, credits: Todd Haynes' Carol, Mark Herman's Little Voice
Adis Đapo (Bosnia and Herzegovina), producer, SCCA/pro.ba, credits: Danis Tanović's Death In Sarajevo, Igor Drljaca's The White Fortress
Moderator: Paula Vaccaro (UK), producer, Pinball London
Working with streamers (presented by Documentary Campus)
Speakers: Chris Marcich (Croatia), CEO of the Croatian Audiovisual Centre
Lars Loge (Norway), Norwegian Film Institute
Martichka Bozhilova (Bulgaria), producer, AgitProp
Pauline Durand-Vialle (Belgium), CEO, FERA Federation of European Screen Directors
Moderator: Alexandra Lebret, managing director, European Producers Club
What women want: quotas and reality
Speakers: Aida Begić (Bosnia and Herzegovina), director
Antoneta Alamat Kusijanović (Croatia), director,
Bianca Oana (Romania), producer/writer, Manekino Film / Monogram Film
Agustina Chiarino (Uruguay), producer, Mutante Cine
Moderator: Amra Bakšić Čamo (Bosnia and Herzegovina), producer, SCCA/pro.ba
A new take: new models and possibilities for distribution (presented by Documentary Campus)
Speakers: Amy Hobby (US), producer, Tangerine Entertainment and executive director at Tribeca Film Institute
Andy Caley (UK), distributor, Bohemia Media
Ester Bernal (Mexico), head of distribution, Piano Distribution
Ryan Harrington (US), head of film, Kinema
Moderator: Paula Vaccaro (UK), producer, Pinball London
Can co-productions be green? Strategy and challenges (presented by MEDICI - The Film Funding Journey and FOCAL)
Speakers: Sehad Cekic (Montenegro), head of Film Centre of Montenegro
Amra Baksic Camo (Bosnia and Herzegovina), producer, SCCA/pro.ba
Alberto Battocchi (Italy), film commissioner, Trentino Film Fund and Commission
Zuzana Bieliková (Slovakia), film commissioner, Slovak Film Commission/ Slovak Audiovisual Fund
Christiane Dopp (Germany), Film Commission Hamburg and Eco Funding Consultant, MOIN Moving Images North Filmfund Hamburg Schleswig Holstein
Moderator: Tamara Tatishvili (Switzerland), head of training at MEDICI - The Film Funding Journey, FOCAL
Staying sane: Mental health in the film industry (presented by Documentary Campus)
Speakers: Rebecca Day (UK), psychotherapist and documentary producer, Film In Mind
Malikkah Rollins (US), co-founder, Documentality; director of industry and education, DOC NYC
Victoria Thomas (UK), writer/director, credits: A Birthday Party
Pamela Drameh (US), independent producer / technical manager, STXinternational
Moderator: Paula Vaccaro (UK), producer, Pinball London
In conversation with Alexander Nanau (presented by Balkan Documentary Center)
Moderator: Martichka Bozhilova (Bulgaria), producer, AgitProp
Expanding the co-production drama landscape
Speakers: Nebojša Taraba (Croatia), producer, partner, production company Drugi plan
Hordur Runarsson (Iceland), producer, co-owner, Glassriver
Moderator: Cia Edström (Sweden), head of industry and TV drama vision, Göteborg Film Festival