Distributor plans an August theatrical release followed by digital, home video release.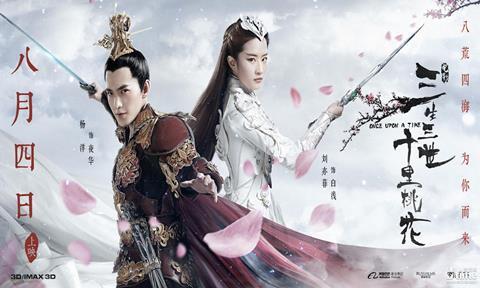 Well Go USA Entertainment has acquired North American rights to Zhao Xiaoding and Anthony LaMolinara's Once Upon A Time from IM Global.
The film is based on the novel Three Lives Three Worlds, Ten Miles Of Peach Blossoms, which also spawned the television series Ten Miles Of Peach Blossoms, also known as Eternal Love, earlier this year.
Once Upon A Time follows Bai Qian, a goddess and monarch from the heavenly realms, who is sent to the mortal world to undergo a trial to become a high goddess. There, she meets Ye Hua with whom she falls in love and marries. However, when an old enemy reappears in her life, everything she holds dear is threatened.
Yang Yang, Yikuan Yan, Jin Luo, and Chun Li star in the film produced by Zhang Yibai and Ali Pictures.
Once Upon A Time will have its North American theatrical release on August 11 and will be shown exclusively in the original 3D format in Mandarin with English and Chinese subtitles. The film will have a digital and home video release later this year.
"Once Upon A Time is as beautifully written as it is visually breathtaking," Doris Pfardrescher, president and CEO of Well Go USA Entertainment, said. "Fans have fallen in love with this story and now we couldn't be more excited to take audiences to the next level by bringing it to the big screen."
Pfardrescher negotiated the deal with Leslie Chen, IM Global senior vice-president of sales and acquisitions, Asia.