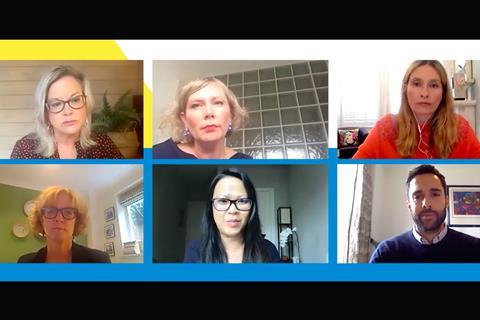 How to enact real action to eradicate bullying and harrassment in the film industry, including the creation of on-set "wellbeing co-ordinators", was the topic of conversation at an online debate in the We Are UK Film's virtual Cannes 2021 pavilion during Cannes this month.
Following Harvey Weinstein's conviction in the US for rape and assault and the recent bullying and harrassment accusations against Noel Clarke in the UK, Jen Smith, head of inclusion at the BFI, Clark Crewe, production executive at Fable Pictures, Sara Putt, managing director of Sara Putt Associates, Ngoc Nguyen, head of entertainment at Time's Up, and psychologist Michelle Smith, co-founder of Six Feet From The Spotlight, discussed the various ways forward for the film and TV industries that will actually keep its workforce safe.
A major step forward has been the drawing up of the BFI and Bafta's set of principles to tackle and prevent bullying, harassment and racism in the screen industries which are now contractual for all BFI-funded films and which the BFI hopes to see pushed out across all productions, large and small, in the UK.
"They articulate your rights as a worker and responsibilities as an employer," explained Smith. "We're refining them all the time and they give us a really good framework to speak to when we have issues on set. In terms of a practical intervention, we think they're good, but they're not the whole story. And there are lots of moving parts to how we continue to shift the cultural norm in our industry and how we continue to build mechanisms to keep people safe."
This can be something as simple as putting the principles and guidance on the wall of a studio or production office for every crew member to see, which, said Smith, "sets a really clear tone of intent. This is how we work together. We respect one another. We respect the law. This is how we're going to run this production. This is how we're going to do our work. We found that that has great preventative value as well. And that's what we want to be the norm in the industry going forward."
For Sarah Putt, whose agency represents below the line talent, having the guidance and principals "gives us process and gives us structure. And those two things are incredibly important," she said. "As an agency, we represent heads of department, producers and directors, but we also represent trainees. We have a trainee scheme and a foundation. So we are representing and looking after people at all stages of their career, which gives you a very interesting oversight. And I genuinely think things are getting better.
"What feels very, very important now is that this embeds with employers in an active away, as it has been taken on by guilds, by agents," Putt continued. "We have a group of 35 below the line agencies, and we've all joined together to help each other share information. But what we have done is we have all as a group signed up and we pull on each deal memo that we send to any production that it adheres to the BFI/Bafta guidance and principles. And we're not getting any pushback. Everybody is engaging with that. There's still work to be done but we've made a really, really good move forward."
Fable Pictures, said Crewe, has fully embraced and endorsed the BFI/Bafta guidance. "I feel like this is really ingrained within our company ethos," he explained. "We have a long way to go and we're not perfect, but we adopted the BFI guidance and principles last year and have been working alongside them for a while now.
"For us, it's really trying to collaborate and communicate more and empower each member of our team to be educated in the principles, but also feel knowledgeable and comfortable knowing how to handle any harassment claim."
For its most recent production, Fable "created a statement email which lays out our ethos and our beliefs and our legal obligations," added Crewe. "That gets sent out to our producer, director, all of our HoDs. And included in that is a link to the ScreenSkills training on tackling bullying and harassment. Then we'll send it out to the larger crew and have weekly or biweekly check-ins, as well as have a presence on the set. We're going to put up the guidance and principles wherever we can around set. It's not trying to scare anybody. It's trying to open up the conversation and really empower every single individual that we're all here to change this."
For Michelle White, the next logical step is the adoption of a new on-set role that Six Foot From The Industry is developing in collaboration with the industry. "This is a role that we're calling 'a wellbeing facilitator'," says White.
The new role would address the challenge of "how do you apply these frameworks in the real world, in person?" White explained. "We're taking people who work in the film and TV industry and giving them comprehensive training in mental health and the law, as it pertains to the film and TV industry, mental health and stress risk assessments, how to put wellbeing policies together, things like legal duty of care, making reasonable adjustments for people.
"We then train them in psychological safety, in coaching approaches, in interventions. These people go out onto productions, are on set, a highly visible presence, and are embedding the BFI/Bafta principles."
White says the role is designed not just for big budget productions but for smaller shoots too.
"We're very agile. We were doing this because we want to be able to scale this up or down. Everything from five people to 500 people plus. Our ethos is we will make it work for you, regardless of budget. We can't do it for free, sadly, which is what we'd love to be to be doing. But we've done enough business models to make it as flexible as we can, because we want people to be able to use it and take advantage of it."
Watch the full panel below: