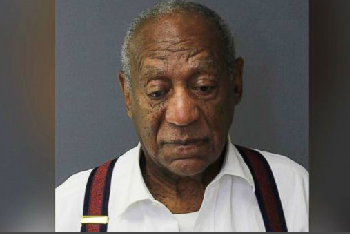 Monday's sentencing of the stand-up comic and actor Bill Cosby to three to 10 years for drugging and molesting a woman was a watershed moment for the formidable #MeToo movement.
Pennsylvania judge Steven O'Neill delivered the first custodial sentence to a world-renowned entertainer since #MeToo erupted in late 2017 and, legal observers say, it may change the way society views accusers and accused in such cases.
"I am hopeful that the #MeToo movement has made a difference in the minds of the public by educating a great number of people, not only with respect to how often these types of crimes are committed, but also with respect to a victim's genuine reluctance to come forward," says former federal prosecutor Priya Sopori.
"Whether you believe [Cosby's accuser Andrea Constand] or not, she clearly believes that she is telling the truth. This is her truth and her experience. Someone in this stage of her life and career has nothing to gain and everything to lose by coming forward."
Indeed the fortitude and testimony of the 44-year-old former director of operations of the women's basketball team at Temple University in Philadelphia could be a game-changer.
#MeToo is dispelling the myth that victims are fabricating stories
"As a prosecutor one of the things you learn is that when it comes to sexual accusations, human memory is very complex and people will remember incidents differently," says Sopori, who is now in private practice at law firm Greenberg Glusker. "To me that offers insight into why someone wouldn't want to subject herself to what Andrea Constand was subjected to. There's this idea that victims are fabricating stories, and that is for the most part a myth. #MeToo is helping people dispel that myth and come forward."
Dozens of women have come forward in the past year alleging Cosby's sexual misconduct. Former supermodel Janice Dickinson gave testimony at the trial. Yet the key role went to Constand. The fact that she stuck to her guns in a manner that was credible and persuasive enough to send Cosby to state prison for aggravated indecent assault will give hope to others who claim they have been abused in similar ways by powerful entertainment industry figures.
Constand was 30 when Cosby first drugged her then proceeded to sexually assault her at his Philadelphia home in 2004. She had known Cosby through his fundraising activities at the institution and regarded the globally renowned entertainer as a mentor and friend.
In court a victim impact statement by Constand described how the man once known as 'America's Dad' had crushed her spirit. "He robbed me of my health and vitality," Constand wrote, "my open nature, and my trust in myself and others."
Cosby's own life and the ugly truth behind it will also remind people that sex attackers are not just faceless monsters but in some cases people of distinction who have worked hard, perhaps even performed good deeds, and accomplished much in their lives.
The 81-year-old entertainer was for a long time an inspiration to many. He may still be so. Born into a humble family, he became the first African-American man to play the lead in a US TV drama – I Spy – and also portrayed a successful obstetrician at the head of a household in the long-running The Cosby Show.
It was a pioneering portrayal of African-Americans in popular culture, and yet Cosby's self-righteousness in his stand-up shows and his tendency to berate black people for their dress and manner became a source of irritation to some.
Stand-up comic Hannibal Buress' viral joke
In 2014 stand-up comic Hannibal Buress told an audience, "Bill Cosby has the fucking smuggest old black man public persona that I hate. He gets on TV, 'Pull your pants up black people, I was on TV in the '80s! I can talk down to you because I had a successful sitcom!' Yeah, but you rape women, Bill Cosby, so turn the crazy down a couple notches."
Buress claimed his remark was a joke, however it became a joke that went viral. At that point, all the allegations of sexual assault concering Cosby that had been circulating for decades took hold. Women, emboldened, began to come forward in numbers and the rest is history.
"This was a serious crime," Judge O'Neill said as he passed sentenced on Monday, hours after categorising the celebrity defendant a sexually violent predator. "Mr. Cosby, this has all circled back to you. The day has come, the time has come." Cosby will serve the minimum three years before he becomes eligible for parole.
"Cosby's sentencing should serve as a reminder to abusers everywhere that no one operates with impunity," the Time's Up movement posted on Twitter after the sentence was handed down. "We remain in solidarity with all of the brave women who came forward and hold them in our hearts today."
'Had the judge not sentenced him to prison there would have been a huge outcry'
"Had the judge not sentenced him to prison there would have been a huge outcry," says Dimitry Gorin, a former prosecutor who is now in private practice at Eisner Gorin LLP as a defence attorney and has seen both sides of the legal fence.
"Three to 10 years is on par for sexual assault cases after trial," says Gorin. "It seems consistent compared to other cases I have seen. I'm seeing many more cases of people coming forward years later making accusations against men and women.
"It's very difficult to prove old cases because you may not have witnesses or [certain] evidence as opposed to going to the police right away. If you have a celebrity case and multiple victims alleging the same thing it becomes much more provable."
Cosby was denied bail pending appeal. Gorin says historically the odds of a sentence being overturned on appeal are slim.
Now the #MeToo movement, fired up by Monday's sentence, marches on. Other famous, wealthy, powerful men of accomplishment in the world of entertainment face allegations of sexual offences. Some are lying low as the authorities build cases against them. Cosby maintained a low profile after his April conviction, when he was released on $1m bail and ordered to stay in his Philadelphia home wearing a GPS tracking device.
On Monday he spent his first night in state prison as a convicted sex offender.