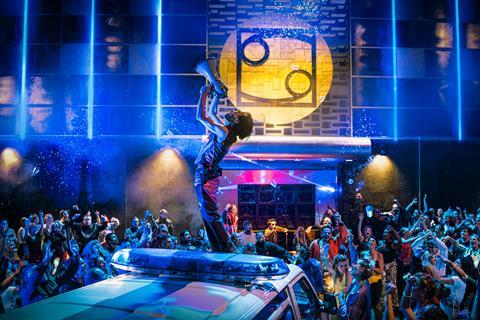 Flemish disco movie and crime thriller Zillion is breaking post-pandemic box office records in Belgium where it has out-performed the release of Disney/Marvel's Black Panther: Wakanda Forever.
Zillion was released by Brussels-based Kinepolis Film Distribution on October 26 and has been the number one film at the box office ever since, apart from for a few days immediately following the launch of the Black Panther sequel.
The film has reached 510,000 admissions and has taken more than €5.5m at the box office. Precise box office data is not readily available as Belgian exhibitors do not publish audience numbers.
Black Panther: Wakanda Forever has now grossed €3.3m as of December 11.
Directed by Robin Pront and produced by FBO's Hilde De Laere, Zillion is based on the real-life story of Frank Verstraeten, a businessman and computer genius who sets up mega-nightclub Zillion in Antwerp in the late 1990s. The venue became hugely popular but ultimately fell foul of both the police and organised crime gangs.
The cast is led by Barbara Sarafian, Matteo Simoni, Charlotte Timmers and Jonas Vermeulen, with the latter playing the nightclub owner.
Flemish movies usually appeal to older audiences but Zillion has notably attracted younger cinema goers. "More than half the audience is in the range of 18 to 35 years old," said Hans Van Acker, general manager of Kinepolis.
Targetting Gen Z
The legendary real-life Antwerp club was open from 1997-2002. "It's a bit of nostalgia for the time back in the 1990s and early 2000s when the parties were ongoing," said Van Acker.
To attract younger audiences, Kinepolis turned to younger-skewing social media such as Snapchat and TikTok, as well as Instagram and Facebook, and also worked with influencers to play on the 'coolness' factor of Zillion and the 1990s.
An innovative marketing campaign involved the distributors briefly recreating the Zillion night club in Antwerp as a pop-up venue on the night of the première, the day before its release. It was also open on the Friday and Saturday of the first release week. Thousands of people turned up. Many had combined tickets which allowed entry both to the movie and to the nightclub.
The event nights were organised by Kinepolis together with producer De Laere and in cooperation with the film's maverick main character, Verstraeten, who briefly came out of retirement to support the release. Tickets have been on sale since May, when the first trailer was released.
World Cup clash
What makes the film's performance all the more impressive is that it has only been released thus far in Flanders and Brussels, not in the French-speaking part of Belgium. The film was launched initially on around 50 screens - and hasn't lost screens since its opening. Receipts dipped slightly during the early part of the Fifa World Cup finals but Belgium's early departure from the tournament, knocked out in the group stages, ensured that not too much damage was done.
"People who like to go to Zillion are also people that like to watch football," said producer De Laere. "We are still number one. Everyone suffers [because of the World Cup] but we are suffering less than Black Panther and the other movies."
Alongside Zillion, there have also been some other smaller local successes at the Flemish box office, among them natural history documentary Our Nature which has posted over 200,000 admissions, according to Van Acker. Lukas Dhont's Oscar contender Close has also had a robust opening.
"A lot of other movies are also performing very well now. Cinema is coming back I think," said Van Acker.
Although Zillion is the best performing Belgian film in the post-Covid-era, it still lags behind all-time Flemish hit Erik Van Looy's Loft (2008), also produced by Hilde De Laere, which achieved 1.2 million admissions. Loft was re-made by the director in an English -language version starring James Marsden in 2014.
Zillion has a budget of around €7m, which is high for a Flemish movie. "We had to close production because of Covid. That's why we lost quite a lot of money. We had to start production again," said De Laere, explaining why the film cost more than originally envisaged.
Paris-based Indie Sales is handling world sales. Millstreet Films is the Dutch coproducer.