Disney's latest Marvel outing leapfrogs Rio 2 with $3m (£1.78m); Lionsgate's The Quiet Ones posts non-final $1.1m (£681,305) debut for week's highest new entry; eOne's Calvary records third best opening of year in Ireland.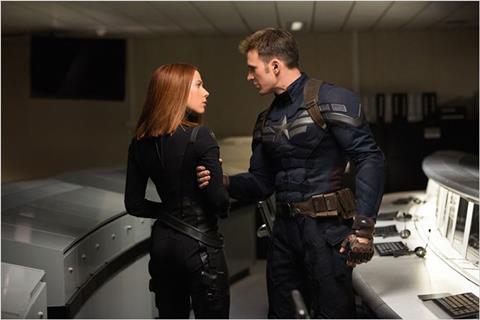 Marvel is once again in charge of the UK box office as Captain America: The Winter Soldier regained top spot in its third week.
Disney's latest Marvel Studios outing grossed $3m (£1.78m), a drop of just 36%, and has so far taken $24.4m (£14.62m) in the UK. It has now overtaken Thor's $23.5m (£14m) UK result, with Iron Man's $29.1m (£17.4m) next in its sights.
The arrival of The Amazing Spider-Man 2 from Wednesday [April 16] may slow down The Winter Soldier's performance, but it should still hit £20m.
Also for Disney, Muppets Most Wanted fell 33% in its third weekend to take $1m (£601,000) for $8.5m (£5.09m) to date, while Frozen boosted 7% for $127,000 (£76,000) and a running total of $66.3m (£39.66m).
PARAMOUNT
Dropping a respectable 37% in its second weekend, Noah sailed to a further $2.64m (£1.58m) from its 479 sites through Paramount. Darren Aronofsky's latest is now up to $9.8m (£5.8m) and while it won't catch Black Swan ($27.1m/£16.19m), its holdover has given it a great chance of hitting £10m.
FOX
Last week's champion Rio 2 fell to third, narrowly behind Noah with a non-final $2.6m (£1.56m). The animated sequel has now flown to $11.3m (£6.8m) in the UK and will need to prosper over the remaining Easter school holidays to catch Rio's $22.7m (£13.56m).
Also for Fox, The Grand Budapest Hotel is on the cusp of £10m after a $555,000 (£331,848) seventh weekend saw it climb to $16.5m (£9.87m).
Mr. Peabody & Sherman dropped just 15% in its tenth weekend, travelling to $214,000 (£127,932) for $21.7m (£13m) to date.
EONE
Holding firm in fourth was eOne's Divergent with $1.7m (£1m) for $6.7m (£4m) to date. If it holds well over the remaining Easter school holidays, it has a chance of catching Limitless' $13.9m (£8.3m) result to become director Neil Burger's strongest UK performer.
Recording the third biggest opening of the year in Ireland with $494,000 (€357,000), Calvary enjoyed a strong $952,000 (£569,000) overall debut from its 145 sites through eOne for the week's highest average at $6,562 (£3,924).
That's ahead of director John Michael McDonagh's feature debut The Guard which took $793,000 (£473,878), but it's worth noting that opening came purely from 71 Irish sites ahead of a UK-wide expansion later on in its run.
Opening one place behind Calvary in eighth was stablemate The Raid 2 with a $759,000 (£454,000) bow from its 230 sites, including $79,000 (£47,000) in previews. That's slightly ahead of The Raid's $698,000 (£417,596) UK debut, including $46,000 (£27,219) in previews, from 297 sites.
The critically acclaimed action sequel was undoubtedly affected by both the good weather and sporting events over the weekend.
LIONSGATE
This week's highest new entry came in the form of Lionsgate's The Quiet Ones which scared up a non-final $1.1m (£681,305) from its 397 sites, including $189,000 (£112,741) in previews.
That marks the second-best UK opening for Hammer Studios, behind The Woman in Black's $5.3m (£3.2m) from 412 sites but ahead of Let Me In's $817,000 (£488,402) from 363 sites, including $102,000 (£61,243) in previews.
WARNER BROS
Now in its ninth week of release, The Lego Movie took $323,000 (£193,000) through Warner Bros and has now built up $54.4m (£32.5m).
300: Rise of an Empire has amassed $13m (£7.77m).
STUDIOCANAL
In its second weekend of release, The Double added $202,000 (£120,645) from a slightly expanded 77 sites through StudioCanal. Richard Ayoade's second directorial outing is now up to $950,000 (£568,249) in the UK, but faces a challenge to top Submarine's $2.4m (£1.46m) result.
Also for StudioCanal, Non-Stop took $149,000 (£89,078) for a healthy $15.7m (£9.4m), while Under the Skin has crossed the £1m mark and stands at $1.8m (£1.05m).
ARTIFICIAL EYE
Released in 28 sites through Artificial Eye, The Lunchbox tucked into $142,000 (£85,139) on its UK debut, including $37,000 (£22,019) in previews, with one site still to report.
UNIVERSAL
Ruairí Robinson's feature debut The Last Days on Mars arrived in the UK with a debut of $78,000 (£46,800) through Universal.
SODA PICTURES
Biyi Bandele's adaptation of Chimamanda Ngozi Adichie's novel Half of a Yellow Sun recorded a UK opening of $54,000 (£32,473), including previews, from its 17 sites through Soda Pictures.
ARROW FILMS
Pioneer could only manage a UK debut of $3,800 (£2,270) from its 20 sites (seven in the Republic of Ireland) through Arrow Films.
METRODOME
Released in five sites through Metrodome, The Strange Colour of Your Body's Tears posted a UK bow of $3,700 (£2,205). That's up on directors Bruno Forzani & Hélène Cattet's feature debut Amer, which grossed $2,100 (£1,249) albeit from just one site.
UPCOMING RELEASES
This week sees saturation releases for Sony's The Amazing Spider-Man 2 (opens April 16) and eOne's The Love Punch.
Lionsgate's Locke receives a wide release, while Koch Media's Magic Magic, Metrodome's We Are the Best! and Anchor Bay's Wrinkles are among the films receiving a limited release.