Universal's biopic falls just 23% as it adds $5.9m (£3.6m) to lead chart for second straight week; eOne's 12 Years a Slave crosses £10m mark.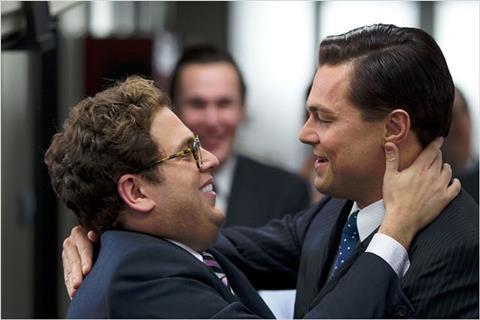 As predicted by Way To Blue's buzz chart, The Wolf of Wall Street continued to charm UK audiences to retain the top spot for a second consecutive week.
Universal's biopic fell just 23% on its strong opening to gross $5.9m (£3.6m) as it sailed past the £10m mark in just ten days. Martin Scorsese's latest stands at $18m (£10.9m) and is likely to overcome The Departed's $21.2m (£12.8m) in the coming days to become the director's best-ever UK performer.
The Wolf of Wall Street is also in a fantastic position to become the UK's strongest ever 18-rated performer, currently Hannibal's $35.5m (£21.6m) result, if it manages a similar hold this coming weekend.
Also for Universal, Last Vegas added $774,000 (£468,000) in its fourth weekend in play and has amassed a sturdy $10.4m (£6.3m) to date.
EONE
Holding firm in second, 12 Years a Slave posted just a 27% drop in its third weekend as it added $3.7m (£2.23m) to cross the £10m mark.
eOne's critically acclaimed awards contender now stands at a strong $18.3m (£11.04m) and is set to cross the £15m mark in the coming weeks with £20m a likely target.
Also for eOne, Delivery Man has grossed $4.7m (£2.8m) following a $562,000 (£339,697) third weekend.
PARAMOUNT
The week's highest new entry came in the form of Jack Ryan: Shadow Recruit, which charted third. Paramount's spy reboot posted a $2.1m (£1.3m) UK bow from its 443 sites, with 10.1% of the gross coming from 23 IMAX screens.
That's up on The Sum of All Fears' $1.9m (£1.1m) UK debut, albeit from less sites at 346, and puts it in a position to challenge Patriot Games' $10.8m (£6.5m) UK tally as the best performer in the franchise.
However, the debut pales next to Chris Pine's other notable reboot, Star Trek, which phased to $9.8m (£5.95m) in 2009 from 499 sites.
Anchorman 2: The Legend Continues stands at $23.6m (£14.28m) after six weeks in play.
DISNEY
Frozen is effectively doing all its business on Saturday and Sunday but is doing so in style.
Disney's Oscar-nominated animation remained in fourth with a $1.8m (£1.09m), a barely noticeable drop on last week's $1.9m (£1.15m), to sail past the £35m mark. It currently stands at $58.9m (£35.57m), that's a running tally of almost eight times its opening weekend of $7.7m (£4.7m).
It has every chance of hitting £40m, especially as Disney announced today that a sing-along version of the film will be released in UK cinemas from Feb 7, in time for the school half term holidays.
ENTERTAINMENT
American Hustle enjoyed another slim drop in its sixth weekend to gross a non-final $1.6m (£994,762) to round off this week's top five. Entertainment's awards contender stands at an excellent $18.6m (£11.2m) having crossed the £10m mark last week.
Charting seventh on debut, August: Osage County recorded a non-final $890,000 (£537,219) opening from its 300 sites through Entertainment. The result means it's already director John Wells' strongest UK performer, topping The Company Men which received a 100-site release in 2011.
STUDIOCANAL
Posting the third highest site average of the weekend (behind The Wolf of Wall Street and 12 Years a Slave), StudioCanal's Inside Llewyn Davis got off to a solid start in the UK.
The Coen brothers' latest outing enjoyed a $1.2m (£714,581) debut from its 205 sites for an average of $5,747 (£3,469). That's some way behind the duo's best-ever UK bow achieved by Burn After Reading, but it's worth noting that its $3.4m (£2m) debut came from 396 sites.
WARNER BROS
Falling around 50% in its seventh weekend, The Hobbit: The Desolation of Smaug journeyed to a further $698,000 (£422,000) to stand at $70m (£42.3m) through Warner Bros.
The IMAX re-release has worked for Gravity as the critically acclaimed sci-fi should hit £30m in the coming week. Warner Bros' awards contender stands at $49m (£29.6m) following a $544,000 (£329,000) weekend.
Not such good news for Warner Bros' new release Grudge Match though as it failed to land a knockout blow with a soft $437,000 (£264,000) debut from its 317 sites.
That marks one of director Peter Segal's lowest-ever UK bows and is also down on Sylvester Stallone's last notable re-team, Escape Plan, which broke out with $1.6m (£958,092) from 362 sites.
LIONSGATE
Edging out Devil's Due in the top ten, The Railway Man took a further $619,000 (£373,986) from its 378 sites through Lionsgate and has so far amassed $6.8m (£4.1m).
The Hunger Games: Catching Fire is up to $56.3m (£33.9m)
FOX
Falling over 50% in its second weekend, Devil's Due took $618,000 (£372,253) and has so far scared up $2.9m (£1.8m) through Fox.
Also for Fox, Walking with Dinosaurs continued its solid UK run by dropping a mere 12% in its sixth weekend as it journeyed to a further $352,000 (£212,626) for $9.2m (£5.55m) to date.
Mandela: Long Walk to Freedom and The Secret Life of Walter Mitty stand at $6.8m (£4.1m) and $10.9m (£6.6m), respectively, while Turbo enjoyed a little boost this weekend to lift its UK tally to $19.5m (£11.8m).
DOGWOOF
Released in four sites (although two sites were one-off screenings), Dogwoof's re-release of Dark Days posted a $5,200 (£3,150) UK debut.
SODA PICTURES
Matt Wolf's Teenage recorded a $2,700 (£1,611) UK bow from three sites through Soda Pictures.
UPCOMING RELEASES
This week sees saturation releases for Entertainment's I, Frankenstein (opens Jan 29), Lionsgate's Out of the Furnace (opens Jan 29), eOne's That Awkward Moment (opens Jan 29) and Universal's Lone Survivor.
Sony's The Armstrong Lie receives a wide release, while Soda Pictures' Journal de France is among the films receiving a limited release.