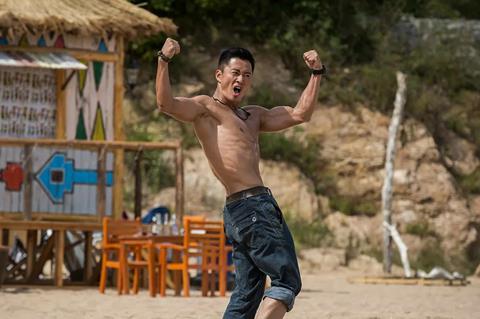 The seemingly invincible Wolf Warriors 2 marched further into uncharted territory in the week of Aug 14-20 as it became the first film in Chinese history to break the RMB5bn ($725m) ceiling.
The nationalistic action drama added $79.1m, maintaining the weekly number one spot for its fourth consecutive week and bringing its 25-day total to an unprecedented $743.5m IN China. It has now become the first non-Hollywood film to enter the top 100 highest-grossing films of all time at the global box office (not adjusted for inflation).
Among the five new local films that entered the weekly top 10, Paradox made the strongest bow, opening in second place with $40.43m from its first four days. It was strong enough to narrowly edge out Wolf Warriors 2 on Thursday and Friday, but the latter performed better on Saturday and Sunday.
As a follow up to action hits SPL 1 and 2, Paradox is directed by the first film's Wilson Yip with the cast from the second film including Louis Koo and Thai action star Tony Jaa of Ong Bak fame. Wolf Warriors 2's Wu Jing, who was in both SPL 1 and 2, did not return in the new film.
In third place was a surprise hit, Twenty Two, which grossed $18mm from its first seven days, making it the highest grossing local documentary ever, surpassing Lu Chuan's Born In China. It has achieved high per-screen attendance on a limited run and has gained good buzz among local netizens despite its uneasy subject matter. Directed by Guo Ke, the documentary follows 22 surviving Chinese people who were used as comfort women for the Japanese soldiers during World War II.
Two holdovers were next in the chart: crime thriller Guilty Of Mind taking $13.04m for $36.96m and heist film The Adventures with $11.30m for $32.90m, both after 10 days.
Three new local films followed: animation One Thousand Bad Jokes 2 on $8.35m from its first three days; animation Seer Movie 6: Invincible Puni for $7.17m for $9.06m after three days; and Peace Breaker, starring Aaron Kwok and Wang Qianyuan in a Chinese remake of Korean crime thriller A Hard Day, on $6.46m from its first four days.
Two holdovers rounded out the top 10: fantasy advanture Legend Of The Naga Pearls on $3.9m for $15.8m, while BBC Earth's documentary One Amazing Day on $2.93m for $4.54m, both after 10 days.
After an absence of almost two months during the summer blackout, Hollywood imports are making a comeback. Wolf Warriors 2 may meet its match with Valerian And The City Of A Thousand Planets, Cars 3 and Baby Driver all lined up for Aug 25.