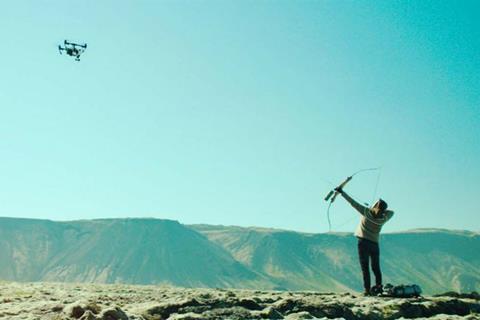 Icelandic filmmaker Benedikt Erlingsson's eco-warrior tale Woman At War, which premiered in Cannes Critics' Week earlier this year, continued its prize-winning run at the Lübeck Nordic Film Days in northern Germany over the weekend, clinching four awards worth a total €25,000.
Its Colombian-born supporting cast member Juan Camilo Roman Estrada attended the awards ceremony in Lübeck's historical theatre to accept the NDR Film Prize, the Baltic Film Prize for a Nordic fiction film, the Interfilm Church Prize and the audience award.
It was the first time in the 60-year history of the Nordic Film Days that a single film has won four prizes.
Woman At War is the third Icelandic film in the last five years to receive the festival's top NDR Film Prize for best feature film, after double lives drama Life In A Fishbowl in 2014 and coming of age romance Heartstone in 2016.
The Lübeck wins came just days after Erlingsson was feted with the prestigious Nordic Council Film Prize in Oslo last week, to become the first director to win the award for both his first and second feature films. He also clinched the prize for his debut feature Of Horses And Men in 2014.
Woman At War also won four prizes following its Cannes' Critics Week premiere in May and also clinched the €5000 Art Cinema Award at this year's Filmfest Hamburg where it was the opening film.
The film is being handled internationally by Beta Cinema and will be released in Germany by Pandora Filmverleih on December 13.
To celebrate Lübeck's 60th anniversary, the Friends of the Nordic Film Days sponsored a new prize for best first fiction film. Its inaugural edition went to Estonian director Moonika Siimets' The Little Comrade.
The Stalin era-set drama, about a six-year-old girl whose mother has been sent to a prison camp, was produced by Riina Sildos' Tallinn-based Amrion Production and is handled internationally by Swedish company Eyewell.
The film also made Lübeck history as the first Baltic fiction feature to open the festival.
In other awards, Icelandic filmmaker Gudrun Ragnarsdóttir's divorce drama Summer Children won the Children and Youth Film Award, Swedish director Ted Kjellsson's sci-fi adventure Alone In Space was feted with the Children's Jury Award and The Illuminators by Finnish filmmaker Antti Haase won the documentary prize.
The Nordic Film Days also played host to a series of industry events including Creative Europe Desk Hamburg's traditional Nordic-Baltic-German Co-Production Meeting, a masterclass by the Norwegian director Erik Poppe, and a roundtable on new film distribution and exhibition models with panellists including Tara Judah from the UK's Watershed Centre, German producer Stefan Gieren, and Algirdas Ramaska, Executive Director of the Vilnius International Film Festival.