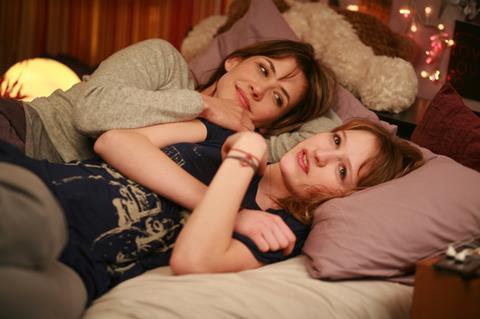 Female directors accounted for 23.3% of feature films shot in France in 2017, according to a new report by the CNC looking at every aspect of female representation in the country's film and TV industry between 2008 and 2017.
The comprehensive 122-page study, released to coincide with International Women's Day on March 8, is a joint study between France's National Cinema Centre and Audiens, the body which manages compulsory social security payments for film and TV professionals
The study showedt between 2008 to 2017, the number of films directed by women had risen by 62.8%, from 43 films a year to 70, while productions directed by men had increased 32.2% in the same period. The 2017 percentage figure for films directed by women rose slightly to 27% when co-directed works were included.
It noted a new generation of female directors had emerged in the last decade – with 39 women making at least three films each between 2008 to 2017.
They included, it said, Sophie Letourneur, Amanda Sthers, Hélène Cattet, Fanny Ardant, Aida Begic, Valérie Donzelli, Pelin Esmer, Katell Quillévéré, Rebecca Zlotowsky and Axelle Roppert.
Comparisons with other European territories
Looking at the total number of films released in nine key European territories from 2012 to 2017, the study found that female directors accounted for 24.2% of films released in France, against 30.9% in Sweden, 27.9% in Norway, 25.9% in Germany, 14.2% in Spain, 12.1% in the UK and 10.1% in Italy, in their respective territories.
Breaking down the total 307 female-directed features released across all nine territories for the 2012 to 2017 period, it found that France accounted for 35.8% of them.
Production and distribution budget inequalities
The study brought into sharp relief the gap between budgets for films made by men and women. It found that the average budget for a female directed film in 2017 was €3.47m, some 37.1%, or €2m, lower than the average for male-directed films.
The research also showed that for the 2008 to 2017 period, 34.4% less money had been spent on average on distributing female-directed films than those made by men. Female-directed films had been shown on average in 118 cinema theatres, against 170 for male-directed works over the timeframe.
Box-office performance
Looking at the performance of female-directed features from 2008 to 2017, the study found that the top 25 for the period was dominated by male-directed features.
Lisa Azuelos's 2008 comedy LOL (Laughing Out Loud) was the only female-directed film making it into the list with 3.7m spectators.
The next two most successful female-directed films were Roselyn Bosch's La Rafle (aka The Round-Up) with 2.9m admissions and Maïwenn Le Besco's Polisse which sold 2.4m tickets.
Looking at the 2008 to 2017 chart for the best performing female-directed features, these were the only three films which punched above the two million spectator mark.
Division of labour
The data provided and analysed by Audiens gave an interesting insight into where women worked in the film industry and how they fared in terms of pay.
According to its figures, women made up 51.8% of the 15,483 permanent employees working in the exhibition sector in 2016. Only around 1% of staff are employed on a temporary basis in this sector.
On the production front, the study found the number of women working in the production of majority French films had risen by 16% from 2009 to 2016, against a 5% rise for men in the same period.
Overall women represented 43.2% of the 15,208 people who worked on CNC-recognised, majority French productions in 2016, against 40.8% in 2009.
Women were to be working through to be found throughout the production chain, but the study found they dominated roles such as script assistant (95.3%), costumer and dresser (88.1%) and make-up (74.4%).
On the salary front, female pay lagged behind male remuneration in most sectors of the industry, particularly women directors, whose fee for a feature was on average 43% less than that of a male director.
There were a handful of roles in which women were paid more on average than men: notably script girl, where their pay was on average 18% higher, and stuntwomen due to the scarcity of women working in this domain.