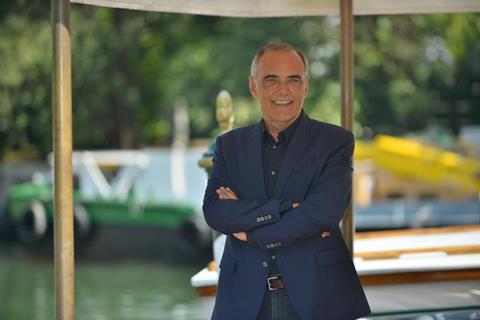 Speaking to Screen after the press conference which unveiled the programme of the 75th Venice Film Festival (August 29 - September 8), director Alberto Barbera adressed the lack of female directors in this year's line-up.
With only one film in competition by a female filmmaker, Jennifer Kent's The Nightingale, and only a handful of others across the selection, Venice joins the roster of festivals facing accusations of gender bias.
Barbera however challenges the idea that change in the industry will come by imposing equal representation: "You can't change things from the outcome, they have to change from the start."
Fiercely opposing the idea of judging a movie by the gender of its director, Alberto Barbera stated in the press conference that he would prefer to abandon the job than to select a movie for anything other than its merit.
"We knew that the press would have killed us for having just one woman in competition. But there's nothing more offensive for women than to select a movie just because is directed by one. Because the festival can use some more women in competition!".
And this, Barbera says, is why the Biennale has planned a new study on accessing moviemaking. "It's already started, and we want to go all the way on this," he notes. "President of the Biennale Paolo Baratta agrees that this is not something that can be dealt with based on numbers. We are not in the position of solving the problem. What we can do is extrapolate information that maybe can help the change thanks to all the data and the curriculum vitae we possess. Why is one out of five debut films directed by a woman? What are the gates that limit the access to the job? Where can we intervene? This is our aim, not just putting more women in the festival regardless of the quality of their movies."
Barbera added that he felt this year's line-up was his best edition so far. "Maybe this is my strongest Venice ever, thanks to a great season for cinema. We had to leave out many good films that would have been part of the selection of any other year".
Weinstein
The 75th edition will be the first held post-Weinstein and, although the scandals are leading to increased awareness, Barbera says that he hasn't yet noticed a change in traditional attitudes.
"I haven't seen studios or indies abandoning their prejudices on women and giving them the same attention they give to men" he observes. "Equal salary and equal representation are important but they don't solve the problem. This is not an industry that produces boilers, we are dealing with art. What is needed is equal creative dignity that results in more women seeing their movie produced".
UK disappointments
As well as female directors, Asian and British cinema is also less well represented in the Venice programme than in previous years. Barbera says that this was a combination of few valid titles coming from eastern territories, and a few missed opportunities.
"We didn't shut the door on big English auteurs, there weren't that many great movies," he notes. "It was more the case of a lot of debut or second features. Though I can't reveal the titles, one movie we invited had to postpone its release to mid-2019, and another one we really loved needed a reply very early in the season, something I couldn't guarantee, so it chose another festival".
Netflix
The Netflix-Cannes spat has also contributed to even more streaming titles falling in Barbera's basket, including movies that were supposed to be Cannes' exclusives such as Alfonso Cuaron's ROMA and Paul Greengrass' 22 July. These bring the total number of Netflix titles playing in Venice to six, with others including Joel and Ethan Coen Western The Ballad Of Buster Scruggs and Orson Welles' unfinished The Other Side of The Wind.
"They are definitely not as hard to deal with as other producers" says Barbera about Netflix. "They don't come from cinema but from technology. Their investment on film is huge and, once they have greenlighted a project, there's no other interference.
"This is exactly the same approach they had with us. We saw a lot of movies of theirs and chose the six you see in the programme. We convinced them of our choices and explained why we thought that was best for their titles. Definitely a far more respectful approach than the one of certain production meetings where a knife is needed."