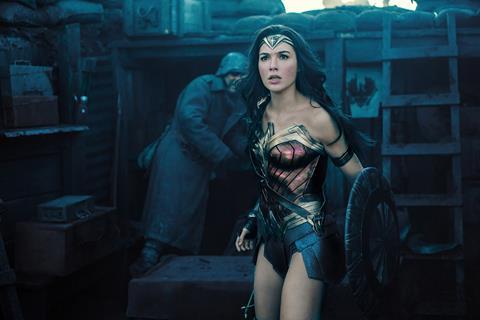 Warner Bros has moved Wonder Woman 1984 from November 2019 to June 5, 2020, ousting Six Billion Dollar Man, which has been removed from the schedule.
Wonder Woman star Gal Gadot posted the news about the date change on Twitter on Monday (22), writing: "Super excited to announce that, thanks to the changing landscape, we are able to put Wonder Woman back to its rightful home. June 5, 2020. Be there or be square!!!"
While it remained unclear exactly what the star meant by "changing landscape", Wonder Woman 1984 now inhabits the slot vacated by the long-gestating Six Billion Dollar Man, which is still without a director after Argentinian wunderkind Damián Szifron (Wild Tales) departed in May when that film's summer 2019 slot was pushed back a year.
Warner Bros president of domestic distribution Jeff Goldstein said, "We had tremendous success releasing the first Wonder Woman film during the summer so when we saw an opportunity to take advantage of the changing competitive landscape, we did. This move lands the film exactly where it belongs."
The original Wonder Woman opened on June 2, 2017, and became a critical hit that went to gross $412.6m in North America and $409.3m internationally for an $821.9m worldwide haul. Chris Pine will reprise his role alongside Gadot, and new cast members include Kristen Wiig as Wonder Woman's foe, The Cheetah. Pedro Pascal is also on the cast.
Warner Bros acquired Six Billion Dollar Man, the feature adaptation of the celebrated TV series Six Million Dollar Man, from The Weinstein Company late last year. Mark Wahlberg was reported to be set to star as an injured US operative given a new lease of life with bionic implants was removed from the schedule.