Wong Hoi's Wong Tai Sin Assassination was presented with the HAF Award for a Hong Kong project at this year's Hong Kong-Asia Film Financing Forum (HAF), while Our Apprenticeship from Japan's Ryusuke Hamaguchi took the HAF Award for a non-Hong Kong project.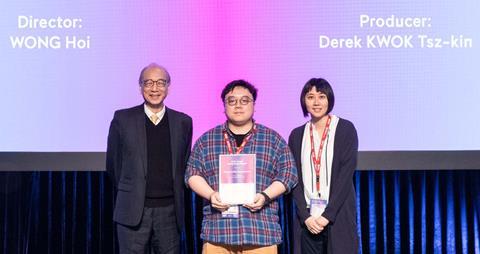 Each project received a cash prize of $19,200 (HK$150,000) in recognition of their originality and creativity.
This year, HAF added a WIP Documentary Award, for a documentary presented as a Work-in-Progress project, which went to Japan's Odoriko. The award came with a cash prize of $10,000 (HK$78,000).
HAF showcased 42 projects in total, including 19 Work-in-Progress (WIP) projects. In total, the financing forum handed out 18 awards worth a combined $270,000 ($2.1m) in cash and value-in-kind (see full list below).
"Thanks to the generous support from our partners, sponsors and fellow filmmakers, both the number and total value of this year's awards have set new records, affording more resources and opportunities for filmmakers to realise their dreams," said HAF director Jacob Wong.
FULL LIST OF HAF 2019 AWARDS:
HAF Awards [Create HK, HAF, HKFDC]
Wong Tai Sin Assassination (Hong Kong)
Our Apprenticeship (Japan)
WIP Documentary Award [Create HK, HAF, HKFDC]
Odoriko (Japan)
HAF Goes to Cannes [HAF and Marché du Film]
Odoriko (Japan), To Live To Sing (China), SUK SUK (Hong Kong), Invitation (India) and Marygoround (Poland)
Heaven Pictures Young Director Award
Solitary Kills (Hong Kong)
mm2 Award
Wong Tai Sin Assassination (Hong Kong)
Wanda Elite+ Plan Award
A Story Of HERS (China)
Artention-Vanke Film Award
Who Is Sleeping On My Pillow? (China)
KOFIC Award
Zalava (Iran)
Wouter Barendrecht Award
Belonging (Bangladesh)
Wutianming Post-Production Award
The River In Me (China)
White Light Post-Production Award
Circa (The Philippines) from HAF
The Shepherdess And The Seven Songs (India) from WIP
G2D Post Production Award
Belonging (Bangladesh) from HAF
On High Ice (Israel and South Korea) from WIP
Cinerent Award
The Priest In The Village (China)
Udine Focus Asia Award
The Grandstand (The Philippines)
Network of Asian Fantastic Films Award
Wong Tai Sin Assassination (Hong Kong)