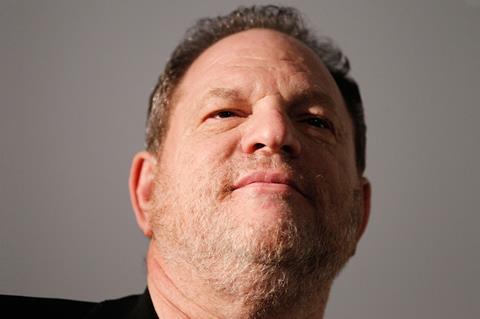 A new documentary about Harvey Weinstein, which aired on Channel 4 last night (Feb 20), investigated how the disgraced mogul worked with the British film industry over a 30-year period.
The film was narrated by Zelda Perkins, who was Weinstein's UK-based assistant at Miramax until 1998. She left the company after a new assistant told her that Weinstein had tried to rape her at the Venice Film Festival. Perkins was made to sign a non-disclosure agreement, which she broke in an interview with the Financial Times last year.
Directed by Alice Perman and produced by Tigerlily Productions, the film contained a number of revelations and featured interviews with producers Stephen Woolley and David Parfitt as well as former employees of Miramax and The Weinstein Company.
Weinstein has been accused of rape, sexual assault and harassment, but has denied any allegations of non-consensual relationships.
Odd behaviour
Woolley, who first worked with the US mogul on 1989 Palace Pictures production Scandal, said of Weinstein at that time: "[Harvey was] not only charming, but very knowledgeable about film."
He added about the Scandal shoot: "When everybody was taking their clothes off [for scenes], Harvey seemed to be around. It was kind of comical in a way. I don't think anyone thought it was freaky or odd, but on reflection it does form a pattern."
Later, when Weinstein was at the peak of his powers following Shakespeare In Love's multi-Oscar win in 1999, and had firmly established himself as a UK power player, Woolley admitted that the executive's abusive behaviour was tolerated by many in the UK industry: "We allowed him to be our bully. He was shouting at staff, waking them up at two in the morning. That I think is a failing that I have as a human being and other producers at the time, of allowing him to quietly bully his own people."
Madden allegations
Laura Madden, a former executive at Miramax, who started as a runner on Into The West, described her first encounter with Weinstein, when during a meeting in his hotel room he asked her for a massage. "I was shocked by this request," said Madden. "He said: 'This is a normal, all my staff do this' and I felt I was the one who was sexualising this."
Madden, who ended up working for the company for eight years, described the subsequent upsetting encounter in detail, at the end of which she was left in tears as Weinstein finally heeded her request and left the room.
According to former Miramax producer Susan Slonaker, she confronted Weinstein about his harassment of Madden. "I thought it was misuse of power, but I thought it was an aberration of the Harvey I knew," Slonaker admitted.
Working for Miramax UK
Zelda Perkins recounted how the Miramax UK office was an exciting place to work, but that Weinstein's arrival always cast a "black cloud". "When he called the whole office would shut down and go into panic," she said.
Madden added: "It was a bullying environment: there was a fear of the wrath of Harvey. Every time I was summoned to The Savoy, where he would work from, there were always requests for massage. He never stopped trying it on. It was consistent and constant. But we also always tried to go in twos or threes so there would never be one person left alone there, and we all wore our coats, massive puffer coats, just tried to make ourselves as unattractive as possible."
Perkins said: "He would always appear in the room totally undressed or in his underwear and ask you join him in the bathroom. He was insistent and he didn't take the first no. It was just the routine."
Venice attempted rape
The film explores allegations that Weinstein attempted to rape a new assistant at the Venice Film Festival when Miramax was there with Shakespeare In Love. The allegations first surfaced in Perkins' bombshell interview with the FT.
Perkins said that when the assistant told her about the alleged incident, she informed employment lawyers in London, who made it clear that criminal proceedings wouldn't be brought forward and that financial damages were the only option.
Perkins and the assistant signed an agreement where they would be paid £250,000 compensation split between them. "It was hush money," said Perkins, who also alleged that Miramax rejected a donation to a rape charity as part of the deal.
The agreement also stipulated that Weinstein would start therapy, that Miramax would introduce an HR system to protect employees and if Weinstein attempted to settle with anyone else, Miramax would have to disclose the agreement with Disney, which owned the company at the time, or fire Weinstein.
Perkins said the agreement didn't have the desired effect. "The company rolled out confidentially agreements with employees effectively allowing Harvey to behave with impunity."
Parfitt allegations
Shakespeare In Love producer Parfitt claimed Weinstein attacked him during the production of My Week With Marilyn after he was unhappy with a positive test screening reaction to the producer's favoured cut of the film.
"[He] decided there wasn't enough of Marilyn in the film and that he wanted more Marilyn. He physically assaulted me. He pinned me up against a Coke machine and threatened all sorts of stuff. It was very scary. He was just furious the film in our version worked."
Parfitt also claimed that Weinstein "was turning up regularly on set and was desperate to be around Michelle [Williams] as far as we could see in a creepy stalker-ish way. In particular, turning up on a day when we had nude swimming."
Parfitt decided to never work with Weinstein again.
Woolley noted the industry-wide belief that Harvey's post-Miramax venture The Weinstein Company, which he launched with brother Bob in 2005 (before being dismissed last October on the back of the harassment allegations), "always seemed to be plagued with money problems".
"We couldn't work out why," said Woolley. "It was a regular rumour at the big festivals: 'Would they survive the year?' They always seemed to be heading for the abyss."
UK civil action
Lawyer Jill Greenfield, who is representing a number of women in a UK civil court action, said that proceedings have been served against Harvey Weinstein and The Weinstein Company, both in the US and UK. "Now a lot of women are not afraid to go all the way on this. He's not above the law," she commented.
Perkins concluded the documentary by saying: "Harvey Weinstein helped create a golden age of British film, but did so by bullying and abusing those he worked with. Now many of us are speaking out and the wish is that the country that made him is the one that brings him to justice."
At the end of the documentary, a statement from Weinstein's lawyers declared the stories of Laura Madden, Zelda Perkins, David Parfitt and Gaia Elkington (another ex-assistant fired after an unpleasant encounter with the mogul) untrue.
It added that Weinstein "unequivocally denies he ever engaged in criminal misconduct of any kind".