Fox's latest X-Men outing posts best debut of the series to date at $15.4m (£9.1m), marking the biggest opening of 2014 in the process.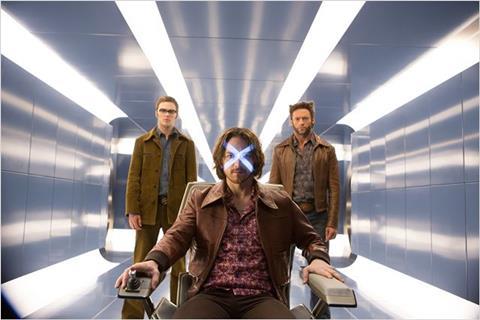 Not content with recording the best debut of the X-Men series, X-Men: Days of Future Past has posted the best opening to date of 2014 as it topped the UK box office.
Fox's latest X-Men outing stormed its way to a terrific $15.4m (£9.13m), including previews of $2.7m (£1.6m), to surpass The Amazing Spider-Man 2's $15.2m (£9m) bow which included $4.9m (£2.9m) in previews.
That also marks the best opening of the X-Men series, overtaking X-Men: The Last Stand's $11.9m (£7.1m) which included $1.7m (£1m) in previews. X2 is the best UK performer to date at $34.8m (£20.7m), a tally that Days of Future Past should easily overtake in the coming weeks.
It's worth noting that its Fri-Sun tally of $12.7m (£7.5m) would have also seen Days of Future Past comfortably land the number one spot and also the biggest opening of the X-Men series.
Days of Future Past also posted the seventh biggest opening for Fox of all time and the biggest Fox opening since Ice Age: The Meltdown's $16.5m (£9.8m) in 2006.
Including Bank Holiday Monday [May 26], X-Men: Days of Future Past has grossed $19.5m (£11.6m) and should enjoy a prosperous week ahead with the school holidays.
Also for Fox, Rio 2 boosted on its previous weekend to gross $575,000 (£341,785) for $23.8m (£14.1m) to date, while The Other Woman added $562,000 (£333,760) for $14.8m (£8.8m).
WARNER BROS
Dropping around a respectable 50% on its strong opening, Godzilla charted second with $4.5m (£2.7m) from its 549 sites.
Warner Bros' reboot is now up to $21.4m (£12.7m) as of Monday and will likely surpass the $26.9m (£16m) UK result of Roland Emmerich's take on Toho's iconic monster in the coming weeks.
Also for Warner Bros, Blended rounded off the week's top five with a $1.2m (£688,000) debut from its 390 sites. That marks one of the lowest UK openings for director Frank Coraci, ahead of only Here Comes the Boom's $729,000 (£433,052) bow from 281 sites.
It's also down on the UK debuts of previous Adam Sandler/Drew Barrymore collaborations, The Wedding Singer ($1.7m/£1m from 270) and 50 First Dates ($2.8m/£1.7m from 395).
UNIVERSAL
Falling just 13% week-on-week, Bad Neighbours fell to third with $2m (£1.21m) through Universal and stands at $23.3m (£13.87m) as of Monday.
It will face its first direct competition this week with the arrival of stablemate A Million Ways to Die in the West.
LIONSGATE
Postman Pat: The Movie delivered a $1.3m (£774,743) UK debut from its 502 sites through Lionsgate. That's a somewhat soft $2,600 (£1,543) average over the weekend, but it's likely to enjoy a healthy week with the school holidays.
Evidence of this comes from its Monday take of $540,000 (£320,250) which lifted its current UK gross past £1m to stand at $1.8m (£1.1m).
STUDIOCANAL
With a minimal drop on its sun-affected opening, The Two Faces of January grossed an additional $510,000 (£303,037) through StudioCanal. As of Monday, Hossein Amini's directorial debut is up to $1.7m (£1.03m) in the UK.
Also for StudioCanal, The Wind Rises has taken $893,000 (£530,438) to date following a $113,000 (£67,051) third weekend.
SONY
Taking a further $430,000 (£255,000) over the weekend and $190,000 (£113,000) on Monday, Sony's The Amazing Spider-Man 2 has swung to $40.1m (£23.8m) to date in the UK.
It'll need to prosper over this week's school holiday to stand a chance of surpassing its predecessor's $43.8m (£26m) result to avoid becoming the lowest grosser of the series in the UK.
PARAMOUNT
Released in 120 sites through Paramount, Fading Gigolo posted a $266,000 (£158,086) UK bow for director John Turturro's best-ever opening, ahead of Romance & Cigarettes' $116,000 (£69,102) albeit from just 29 sites.
As of Monday, the comedy-drama stands at $375,000 (£222,453).
SIGNATURE ENTERTAINMENT
Animated sort-of sequel Legends of Oz: Dorothy's Return started its UK run with $157,000 (£93,469) from its 82 sites through Signature Entertainment, grossing a further $79,000 (£46,927) on Monday to stand at $236,000 (£140,396).
CURZON FILM WORLD
Now in its third weekend of release through Curzon Film World, Frank sung its way to $39,000 (£23,071) over the weekend and stands at $759,000 (£450,303) as of Monday.
DOGWOOF
The Punk Singer notched a $23,000 (£13,817) UK bow from its five sites through Dogwoof, including previews. As of Monday, the Kathleen Hanna documentary has grossed $24,000 (£14,285).
METRODOME
Opened in eight sites through Metrodome, Beyond the Edge grossed $6,800 (£4,071) on its UK debut.
NETWORK RELEASING
Winner of Best Director at Cannes 2013, Heli posted a UK bow of $5,500 (£3,247) from its six sites through Network Releasing.
UPCOMING RELEASES
This week sees saturation releases for Disney's Maleficent (opens May 28), Universal's A Million Ways to Die in the West and Warner Bros' Edge of Tomorrow.
eOne's Jimmy's Hall receives a wide release, while Curzon Film World's Venus in Fur, Soda Pictures' Omar and Sony's Heaven is for Real are among the films receiving a limited release.