EXCLUSIVE: Footage screened in Cannes buyers showcase.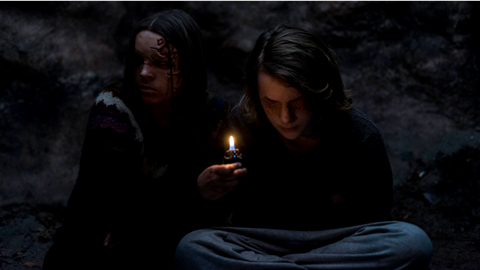 Los Angeles-based XYZ Films has swooped on US sales rights to Justin P. Lange's horror project The Dark after 15 minutes of footage screened at the Cannes Marché last month.
Lange's feature directorial debut took part in the Frontières Goes To Cannes buyers showcase and tells of a flesh-eating undead girl who haunts a stretch of woods where she was murdered. Years later she befriends a kidnapped blind boy who changes her life.
The Dark (see first-look photo) is based on Lange's Columbia University thesis short film of the same name and shot in Northern Ontario, Canada, with the support of the Austrian Film Institute, the ORF Film/Television-Agreement and the NOHFC.
Nadia Alexander and Toby Nichols star alongside Austria's Karl Markovics, the lead in Austria's 2008 foreign-language Oscar winner The Counterfeiters who also starred in The Grand Budapest Hotel.
Danny Krausz and Kurt Stocker of Vienna-based Dor Film are producing with Laura Perlmutter and Andrew Nicholas McCann Smith of Toronto-based First Love Films. Florian Krügel serves as executive producer. Klemens Hufnagl serves as cinematographer and co-director.
XYZ Films has made a name for itself as a nimble production and sales company with an eye for emerging international talent.
The pipeline includes Netflix Original rescue thriller Apostle with Gareth Evans, a longtime collaborator dating back to 2009, when the company sold his Indonesian thriller Merantau and went on to work together on cult hit and arthouse breakout The Raid: Redemption.
Company principals Nate Bolotin, Nick Spicer and Aram Tertzakian recently championed Babak Anvari's Under The Shadow, overseeing North American and select international sales on the winner of the 2017 BAFTA Award for outstanding debut by a British writer, director or producer.