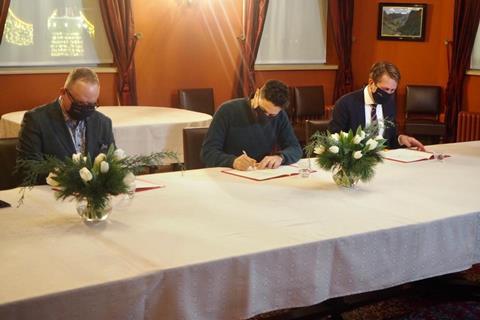 XYZ Films and Film Tampere in Finland have entered into a strategic alliance as the parties announced production in the Scandinavian country has wrapped safely on sci-fi Dual starring Karen Gillan, Aaron Paul and Beulah Koale.
Dual is the first Hollywood production to film entirely in Finland and shot under Covid protocols, employing approximately 100 Finnish film professionals.
The new alliance aims to strengthen Tampere and Finland as international production locations, and nurture a filmmaking culture across the region.
The primary goal is to bring more international filmmaking opportunities to Tampere and Finland that will include both XYZ Films productions, and "match-making" efforts by the Los Angeles-based company to encourage third-party productions to shoot in the region.
XYZ Films will advise Film Tampere and its upcoming partners on how to maintain and increase its competitive advantage as an international shooting location.
The partners will also host a series of masterclasses to teach Finnish students the basics of film such as story development, production, financing, and distribution. Industry participants will include screenwriters, directors, actors, and producers, among others.
The partners will also identify promising next-generation Finnish filmmakers and organise cultural exchange programmes and trips to Los Angeles.
"We've been thrilled with the experience of shooting Dual in Tampere," said Aram Tertzakian, co-founder of XYZ Films and a producer on the film. "We are committed to identifying more filmmaking opportunities in Tampere and Finland, and this alliance with Film Tampere is a great first step to ensure that we can achieve this goal."
"The production of Dual evidenced the high quality of the Finnish know-how," said director of Film Tampere, Ilkka Rahkonen. "The filming progressed on schedule, the team spirit was excellent and the collaboration between XYZ Films and Film Tampere worked smoothly. It's a pleasure to see that international productions will continue in Finland."
Paavo Virkkunen, executive director, Finland Promotion Services, Business Finland, added, "We are delighted and proud that Dual was able to complete filming in Tampere safely, despite the pandemic. The tight-knit AV ecosystem in Finland has proved itself by providing a safe, unique, world-class environment for the production. We cannot wait to see the finished film."
Riley Stearns directed and produced Dual alongside XYZ Films and Lee Kim, with Film Service Finland providing production services.
XYZ Films financed the production through its fund backed by Helsinki-based IPR.VC. Dual also received support from Business Finland and Film Tampere.
XYZ Films handles global sales and co-represents the US with CAA Media Finance and UTA Independent Film Group.
The company just licensed multiple territories on sci-fi Stowaway to Netflix, and its current sales slate includes The Trip starring Noomi Rapace and Aksel Hennie, Run Rabbit Run with Elisabeth Moss, Cus And Mike starring Anthony Hopkins, current release Vivarium with Jesse Eisenberg and Imogen Poots, and Sion Sono's Prisoners Of The Ghostland starring Nicolas Cage and Sofia Boutella.