Zootopia beat Kung Fu Panda 3 to become the biggest animated film in China, while The Revenant opened second.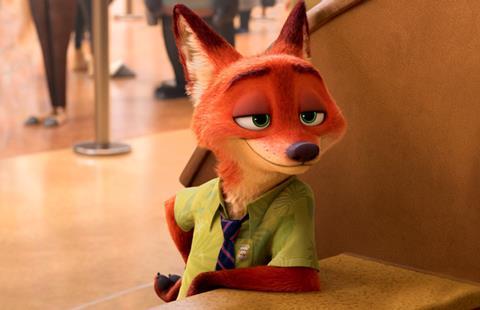 Disney's Zootopia retained the top spot at the Chinese box office for the period of March 14-20, pulling in a staggering $58.50m.
The family hit has amassed $170.25m after 17 days, making it the first animated film to pass the billion yuan (approximately $160m) threshold in China. It has dethroned Kung Fu Panda 3, which for three weeks held the record as the top animated film.
Alejandro G. Inarritu's The Revenant opened in second place with $31.68m from its three-day opening weekend. Riding on the star power of Leonardo DiCaprio - who attended the film's premiere in Beijing - and the triple Oscar-wins for best director, actor and cinematography last month, the film topped the daily chart on its opening day (Friday), but dropped to second spot on Saturday and Sunday.
Lionsgate's action-adventure Gods Of Egypt slipped one spot to third in its second week with $12.50m. Its China gross, which stood at $32.30m after 10 days, has outpaced its North American total.
Donnie Yen-starrer Ip Man 3 was pushed to fourth place with $8.31m for $119.64m after 17 days, following alleged box office fraud that would have inflated its opening weekend takings.
Two local films entered the weekly top 10: new romantic-comedy The Rise Of A Tomboy debuted in fifth place with $4.99m, while US-set local comedy Papa opened in seventh with $0.92m, both after their first three days.
Stephen Chow's The Mermaid, currently China's highest-grossing film ever, ranked sixth and added $2.78m from $513.87m after 42 days.
In eighth place, Kung Fu Panda 3 added $0.78m from $150.94m after 52 days from its extended run.
Rounding out the chart were local horror Under The Bed 3, which took $0.58m for $1.30m after 10 days, and sports biopic Eddie The Eagle, which had a weak opening with $0.41m from its first three days.
Batman v Superman: Dawn Of Justice, which opens on Mar 25, is to set to be the next big Hollywood title to arrive in China.