US producers and execs from HBO, HanWay and China's Wanda Group discuss distribution challenges and impending consolidation.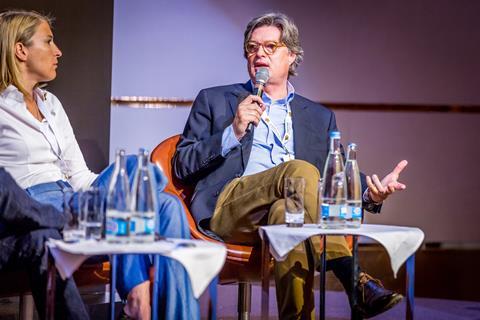 The surplus of scripted drama, European film consolidation and business diversification were among was the key topics highlighted at the Zurich Summit (Sept 26-27).
Film and TV executives alike touched on the likelihood of consolidation coming their way, both in the US scripted TV market and the European film distribution space.
Antony Root, EVP of original programming and production at HBO Europe, said: "There are 400 scripted shows on US TV this year. There can't possibly be the amount of writing, directing and acting talent in Hollywood to sustain that.
"As happened with the dot-com boom there will likely be a consolidation."
Glut of content
Anonymous Content CEO Steve Golin said of the surfeit of content on US TV: "There is a glut. There will be a shakeout in the middle. High-end shows will survive. Reality [TV] is suffering.
"With that many broadcasters you need content that will differentiate itself."
True Detective exec Golin said he was initially "completely shocked" that his hit USA Network series Mr. Robot wasn't picked up by HBO or another established scripted player, but that the acquisition was a sign of the times and that 60-70 US TV buyers also provided great opportunity:
"Initially I didn't think USA Network was the right demographic but the market place is changing so quickly," he added.
"Networks like USA Network are now saying that a show like Mr. Robot or Suits can rebrand their network and inform their buying strategy going forward. From a sellers point of view we are excited."
Impact on film
The surfeit is impacting the film sector, which has its own challenges cutting through to audiences despite producing more films than ever.
"There are too many films being made," said Black Bear Pictures COO Daniel Steinman.
"The hardest thing remains sniffing out the good material," admitted Birdman producer John Lesher.
Filmmaker relationships and early ownership of IP are key steps to incubating film businesses in a challenging market where release strategies are harder to predict, agreed a panel of indie financiers.
"With the exception of Fox Searchlight and Sony Classics you never know what kind of release you'll get, even when it's contractual," said Thorsten Schumacher, managing director of HanWay Films.
Distribution consolidation
Schumacher predicted further consolidation in the European distribution landscape: "There is some structural change going on. Some European markets are still relying on free TV, which is eroding.
"The UK is becoming quite consolidated but due to marketing shifts and changing viewing habits there will be further consolidation in markets like France, Germany and Italy where many film companies are still smaller family run businesses."
Business diversification
The audience heard from a number of large commercial players cognizant of the opportunity to diversify their businesses beyond film and TV.
ProSiebenSat.1 CEO Thomas Ebeling laid out a strategy whereby in ten years the German broadcaster would become a "digital consumer goods and commerce home powered by TV and other content".
Executives from Chinese property and exhibition giant Wanda and production outfit Huayi Brothers both talked about further diversifying their already multifaceted businesses.
The duo were joined on a panel by Thomas B. McGrath, COO of US financier STX, which has an 18-film deal with Huayi.
Wanda Group VP Jack Q. Gao spoke of the opportunity for media companies to build on the consumer opportunities presented by film-goers and franchises:
"Selling a film ticket is just the first excuse to connect to the fan," he said.
"In the film sector the industry spends hundreds of millions of dollars to create Avatar, one year later it turns around to do something else. What about those films?" he said.
The Zurich Summit was organised by conference producer Winston Baker.