Indiana Jones star to receive Zurich Film Festival's 'Golden Eye' Award for lifetime achievement.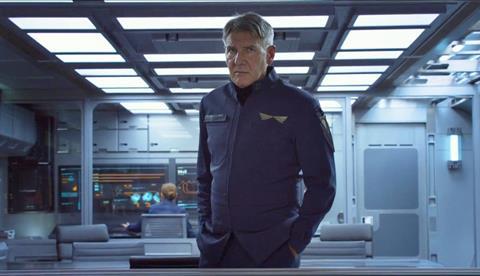 The Zurich Film Festival (ZFF) announced today that Harrison Ford will be the recipient of its 'Golden Eye' award for lifetime achievements in cinema.
The tribute will take place on Oct 4 with Ford in attendance, as he tours Europe ahead of the release of his next film, the sci-fi action adventure Ender's Game, directed by Gavin Hood.
ZFF directors Karl Spoerri and Nadja Schildknecht said: "Harrison Ford has had one of the most remarkable careers of any actor in cinema, helping to propel two of the greatest movie franchises by bringing to life iconic roles that have become just as famous as the films themselves.
"Few actors have commanded the leading man role that Harrison Ford has embodied throughout his career, and continues to showcase in every new project. We are honored to present him with our Golden Eye award at this year's festival."
The festival will present a special screening of Raiders of the Lost Ark prior to Ford's award tribute.
As well as the whip-cracking Indiana Jones, Ford is also best known for his portrayal as Han Solo in the Star Wars franchise - a series he is expected to return to for the new instalments, the first of which will be released in 2015.
His career has also included leading roles in sci-fi classic Blade Runner, crime dramas Witness, Frantic and The Fugitive, and action thrillers Patriot Games, Clear and Present Danger and Air Force One. Ford most recently starred in Brian Helgeland's acclaimed drama 42, the true story of legendary baseball player Jackie Robinson
He will next be seen in sci-fi feature Ender's Game, comedy Anchorman 2 and action franchise The Expendables 3.
Past honours include the Hollywood Foreign Press Association's Cecil B. DeMille Award, in 2002, and the American Film Institute's Lifetime Achievement Award, in 2000.
The Zurich Film Festival runs Sept 26 to Oct 6. Other guests include Hugh Jackman, who will receive the Golden Icon award; jury president Marc Forster; and Working Title producer Tim Bevan, who will accept a Career Achievement award.
ZFF will also host a tribute to Oscar-winning filmmaker Michael Haneke and will be attended by directors including Alfonso Cuarón (Gravity), Atom Egoyan (Devil's Knot), Oliver Hirschbiegel (Diana), James Gray (The Immigrant), Denis Villeneuve (Prisoners) and Andrew Dominik (Killing Them Softly) among others.