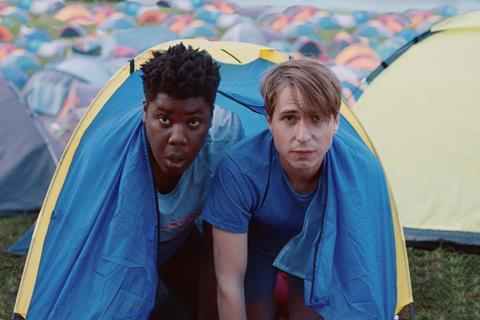 With Mamma Mia! Here We Go Again moving to the cusp of £50m in UK box office receipts after just four weeks, the film faces fresh competition this weekend in the form of The Festival, which Entertainment Film Distributors released into cinemas from Tuesday (Aug 14).
The film comes from director Iain Morris, whose credits include The Inbetweeners TV series and its two spin-off feature films, and stars The Inbetweeners breakout Joe Thomas alongside Hammed Animashaun (Black Mirror). It tells the story of a young man's trip to a UK music festival to cure his break-up blues.
Reviews on The Festival have been mixed but all have drawn firm comparisons with The Inbetweeners - a fact that is likely to boost takings.
The first feature instalment of The Inbetweeners - a film based on a hit TV comedy - opened in August 2011 with a huge £13.2m, topping out at £45m. Its sequel opened in August 2014 with £12.5m and reached £33.4m. While The Festival is an original, new story, Entertainment is hoping it can capitalise on that history.
Mamma Mia! Here We Go Again posted a small 14% drop last weekend with £3.6m and Universal will be hoping for similar success again this weekend. Mid-week takings will have pushed the film past £50m this week.
Further challengers this weekend arrive in the form of Disney's Christopher Robin, director Marc Forster's film based on A. A. Milne's classic Winnie-the-Pooh children's novels, starring Ewan McGregor alongside a CGI Winnie, voiced by Jim Cummings.
The film aims to tap into the vast success of fellow CGI-bear series Paddington, the sequel to which took to more than £42m earlier this year for Studiocanal. The original grossed £38m in 2014. However, middling reviews could hold up Disney's film, which faces competition in the family market from fellow Disney title The Incredibles 2, which continues to perform into its sixth weekend, and Sony Pictures' Hotel Transylvania 3: A Monster Vacation.
Also opening this weekend for Sony is action title The Equalizer 2, starring Denzel Washington, from director Antoine Fuqua. The original opened to £1.9m in September 2014 and topped out at £6.9m, while the sequel has performed well in the US so far, grossing $91.5m to date after starting with $36m.
Curzon is releasing Xavier Beauvois' French- language wartime drama The Guardians, Dogwoof has The Eyes Of Orson Welles, Mark Cousins' documentary about the life of the legendary director, and Park Circus is re-releasing both Mildred Pierce and The Women.
Further key holdovers include Warner Bros' The Meg (which opened to £3.7m last weekend), Disney's Ant-Man And The Wasp (£10.5m), Paramount's Mission: Impossible – Fallout (£17.8m), and Curzon's Apostasy (£214,336).