Dir. Anders Banke. Russia/Sweden. 2009. 110mins.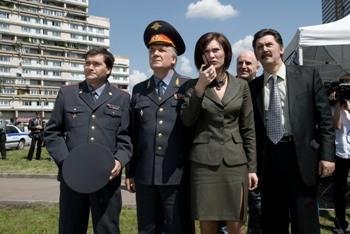 The politics of media manipulation in the age of reality TV is evidently a hot topic. Hong Kong director Johnnie To addressed it with cinematic flair in 2004's Breaking News and Joel Schumacher is set for a Hollywood remake, but the Russians, who have major issues with the media in the age of Putin and his acolytes, got in first with this Russian-Swedish coproduction directed by Banke, a Swede who studied film in Moscow.
Unfortunately, although the setting is a well-captured central Moscow, the plot points and characters that worked in To's film have been altered by screenwriters Klebanov and Lungin in ways that dilute Newsmakers' impact. It is competently, if conventionally, directed, but Banke does not have the visual skills of To, whose moving camera transformed what is essentially a shoot-'em-up into a stylistic masterwork. Chances for much theatrical play outside of ex-Soviet countries, except perhaps for co-funder Sweden, seem remote.
In both films, the starting point is a botched police action against a gang of criminals which is caught on camera by a TV crew and broadcast to an outraged public. The police chief responds to an ambitious, young, and beautiful female PR who suggests that the force's image can be improved by photographing more positive actions against the gang (via mini-video cameras set into helmets), making it into what she calls "a show".
In Breaking News, Kelly Chen played this character as a tough, cold, no-nonsense bitch - credible in a concocted script idea - but Katya (Mashkova), her incarnation in Newsmakers, has been turned into a campy slut. That Mashkova gives a terrible performance only undermines the character further. Even more ridiculous is the gratuitous appearance of a Swedish media mogul who speaks to Katya and her boss in English and insists on buying the franchise.
Once the criminals enter a huge apartment block, Katya, as the show's "director", loses the control necessary to produce her propagandistic narrative, which she plans to air in prime time. (She even makes deals for product placement.) The gang goes into an apartment and takes a single father and his two kids hostage. Katya knows that if anything should happen to the tenants, the TV viewers' outcry would surpass their initial rage. The savvy criminals, meanwhile, begin to broadcast via computer and cellphone while Katya has to contend with an old-fashioned, duty-bound cop, Smirnov (Merzlikin), the hero of the film, who refuses her orders to leave the building so that the Special Forces she commands can do her bidding.
In To's film, a recurring cell-phone-computer hookup between her and the handsome gang leader makes their mutual attraction believable. In Banke's Newsmakers, however, it happens only once, so that it requires a tremendous leap of faith to buy into the instant bond they form once they come face-to-face.
Production companies
Tandem Pictures
Illusion Film
Film i Vast
Maywin Media
International sales
Cinemavault
+1 416 363 6060
Producers
Sam Klebanov
Anna Katchko
Screenplay
Sam Klebanov
Aleksandr Lungin
Cinematography
Chris Maris
Editor
Frederik Mordheden
Production design
Grigori Pushkin
Music
Anthony Lledo
Main cast
Andrei Merzlikin
Evgeni Tsyganov
Mariya Mashkova
Jury Shlykov
Sergey Garmash
Maksim Konovalov
David Stepanyan