Dir: Mario Martone. Italy-France. 2010. 202mins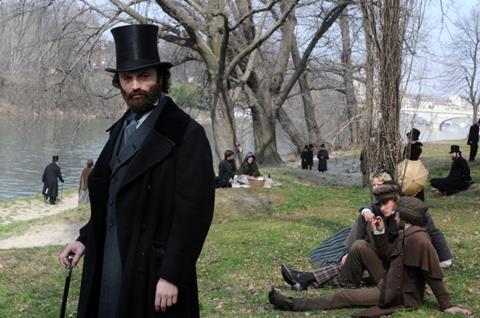 The best thing that can be said of Italian director Mario Martone's three-hour-plus saga of the Risorgimento – Italy's nineteenth-century drive for nationhood – is that it introduces us to some of the illustrious men behind street names like Piazza Mazzini or Via Crispi. Co-produced by the Italian state TV corporation's drama wing Rai Fiction, this rambling mess of a film is divided into four TV-sized 50-minute episodes, all ready for small-screen airing as part of the 2011 celebrations for the 150thanniversary of a unified Italy.
Noi Credevamo (literally "We Believed") suffers from that most basic of cinematic problems.
Though attractively shot, adequately costumed and stirringly scored with selections from Verdi, Rossini and Bellini, this bizarre selection for the main competition in the Venice film festival lacks the cinematic genes of made-for-TV crossovers like Best of Youth. Distributor 01 will give this an Italian theatrical outing in November, and co-production territory France could conceivably follow suit. But elsewhere this indigestible historical stew will likely emerge only on TV or cable – once the price gets knocked down.
Noi Credevamo (literally "We Believed") suffers from that most basic of cinematic problems: an incoherent script, which struggles to draw dramatic lines of tension or thought-provoking themes out of a lumpen mass of narrative material. There's nothing wrong with the initial idea – partly based on Anna Banti's same-name historical novel – which is to approach the ups and downs of the Risorgimento struggle through the eyes of three friends who begin in the 1830s as passionate members of Mazzini's underground revolutionary group, Giovine Italia.
Each of the three gets a 50-minute episode and a historical timeslot to themselves; the fourth and last episode, 'Dawn of the Nation', takes us up to Garibaldi's disastrous Calabrian expedition in 1862, when tensions between republicans and pro-Savoy monarchists were at their height. But the stories of Salvatore (Pisani), Domenico (Natoli, then lo Cascio) and Angelo (Bosca, then Binasco) teach us little about a seismic period in European history.
Heroes of the authorised version of Italian history like Mazzini (a Macchiavellian Toni Servillo) and Garibaldi (ironically absent throughout) are not given a good press here, and there's no doubt that Noi Credevamo is timidly attempting to present an alternative view of Italian unity. The three friends all come from the Cilento region, south of Naples – and the eternally occupied South is shown to suffer under its new Italian-Piedmontese rulers just as much as it did under the Bourbons.
Then there are the class divisions within the Risorgimento movement, with the noble and bourgeois prisoners at Montefusco prison in the 1850s keeping a gentlemen's table and paternalistically sending food over to the common revolutionaries. But none of these themes are developed into a coherent argument – and despite some gauche chunks of expository dialogue, those without a firm grounding in Italian nineteenth-century history will soon find themselves struggling to work out what's going on, who is who, and why it all matters.
Martone – a talented film and theatre director who was once one of the great hopes of Italian cinema – is in jobbing mode here, putting his signature only on one or two baffling anachronistic touches in which we see a glimpse of a modern fire escape down which prisoners are led to execution, or a half-finished concrete building on the Calabrian coast. One day a good film may be made out of the tragicomic saga of Italian nationalism; this certainly isn't it.
Production companies: Palomar in collaboration with Feltrinelli, Rai Cinema, Rai Fiction, Les Films d'Ici, Arte France
International sales: Rai Trade, www.raitrade.com
Producers: Carlo degli Espositi, Conchita Airoldi, Giorgio Magliulo, Serge Lalou
Executive producer: Patrizia Massa
Screenplay: Mario Martone, Giancarlo de Cataldo, based on the novel by Anna Banti
Cinematography: Renato Berta
Production design: Emita Frigato
Editor: Jacopo Quadri
Music: Hubert Westkemper
Main cast: Luigi Lo Cascio, Valerio Binasco, Francesca Inaudi, Andrea Bosca, Edoardo Natoli, Luigi Pisani, Andrea Renzi, Renato Carpentieri, Guido Caprino, Stefano Cassetti, Luca Zingaretti, Toni Servillo, Fiona Shaw