Three countries rise but two register falls in an up-and-down year for the Nordics.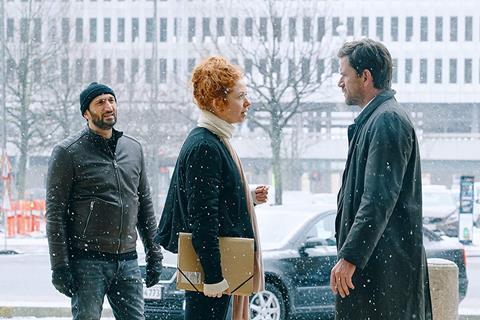 Denmark
Denmark has had a strong year for local films, led by Christoffer Boe's The Purity Of Vengeance (also known as Journal 64), the Nordisk Film release that has already broken records as the highest-ever grossing local film in Danish cinemas and will remain on release until at least January 2019.
The film is the fourth and final feature that Zentropa has produced based on the bestselling Department Q series of novels, about two mismatched detectives solving cold cases; it has earned $10.1m (dkk66.4m) as of December 2. The other Department Q films also performed strongly at the box office, with the previous record holder being the second in the series, The Absent One in 2014.
The Purity Of Vengeance tops the annual chart as of mid-December, with two further Danish films in the top five: Bille August's historical epic A Fortunate Man and Ole Bornedal's John Mogensen biopic The Way To Mandalay. The strongest Hollywood performer in second place at the box office is Avengers: Infinity War. Admissions as of November 25 were up 5% year-on-year, and the Danish market share was at 27% compared with 22% in 2017.

Finland
Admissions in Finland through November 18 were down 5.6% compared with the same period last year, when The Unknown Soldier, one of the biggest Finnish films ever produced, was a record-setting release in the centenary year of Finland's independence. Local market share, without a film to match The Unknown Soldier this year, dropped to 22.1% as of November 18 — which compares with 27.4% for the full year of 2017.
The top local film, number two at the overall box office, was comedy sequel Happier Times, Grump, with admissions of 342,399 as of December 2. Further top local performers were family film Super Furball, post-Second World War love story Land Of Hope, music biopic Olavi Virta and rap tale My Brother's Keeper. For Hollywood films, Mamma Mia! Here We Go Again topped the chart. Spike Lee's BlacKkKlansman landed in fifth place overall, overperforming in Finland thanks to the unexpected casting of local actor Jasper Paakkonen (Vikings) as a white supremacist.

Iceland
The biggest local film — number two in the overall chart behind Mamma Mia! Here We Go Again — was a hard-hitting look at teenage drug abuse, Let Me Fall. Sena Films released Baldvin Z's drama, which launched internationally at Toronto, and it performed well given the dark subject matter — 50,692 admissions as of December 2 (about one sixth of the country's population). That equates to the highest admissions for any local film in the past six years.
The box office from January 1 to December 1 is up 7.6% in terms of grosses and up 6.5% in terms of admissions compared with the same period in 2017, according to FRISK. Thanks to films such as Let Me Fall, the Icelandic market share in 2018 to December 1 is 14.5% in 2018, up from 11.2% in the full year of 2017.
In a summer of football fever, when Iceland qualified for the FIFA World Cup for the first time, football-themed family film The Falcons hit number seven at the overall box office, besting the likes of Deadpool 2 and Mission: Impossible — Fallout. Narrowly missing out on the top 10 was Ploey — You Never Fly Alone, spearheaded by Icelandic animation studio GunHil and animated in Reykjavik as well as Antwerp.

Norway
Box-office receipts are up 14% compared with the same period last year — partly due to a VAT increase from 10% in 2017 to 12% this year. Still, admissions also increased 7% and market share for local films is a record 27%.
Local films were led by The Quake, which is at 582,309 admissions as of December 2. The disaster film was made by Fantefilm, veterans of 2015 hit The Wave. The other top local films were Harald Zwart's historical drama The 12th Man (which opened Christmas Day 2017); Louis & Luca — Mission To The Moon, the third film in the kids' franchise; home renovation comedy Opportunity Knocks; and Erik Poppe's drama about the Utoya massacre, Utoya — July 22. Nordisk released all five of these films. The Quake landed at number two in the overall box office, behind only Mamma Mia! Here We Go Again.

Sweden
Sweden has experienced mixed fortunes: for the first three-quarters of 2018, admissions were down 4% compared with the same period of 2017. But for Swedish films, admissions were up 33% over 2017. The local market share for the first three-quarters of 2018 is 16.4%, compared with 11.9% for that period in 2017.
The overall box office is led by Mamma Mia! Here We Go Again (not a surprise given ABBA's local heritage) on 968,066 admissions with the best Swedish performer, A Moon Of My Own (also known as Ted — Show Me Love), clocking up 354,411 admissions in 10th place overall, as of December 2.
Solsidan, a film spinoff of a popular TV comedy, was launched in 2017 and continued its success in 2018 for a total of 387,000 admissions, and 313,000 for the 2018 period. Other strong local films included The Cake General, JerryMaya's Detective Agency — The First Mystery, Monky, Becoming Astrid and surprise low-budget genre hit The Unthinkable.