Dir: Lav Diaz. Philippines 2013. 250mins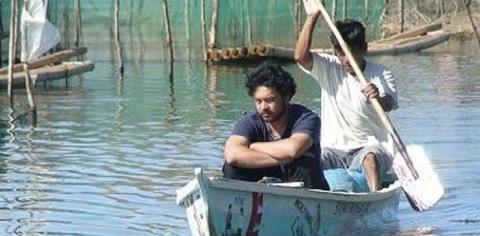 Raskolnikov goes to the Philippines in Norte, The End Of History (Norte, Hangganan Ng Kasaysayan), which takes Dostoevsky's Crime And Punishment as a springboard for Lav Diaz's musings on guilt, will and modern Filipino history. Among adepts of so-called 'Slow Cinema', writer-director Diaz is reputed as a marathon champ, his films sometimes exceeding the eight-hour mark. By comparison, the four-hour Norte is a miniature, but it's also an accessible film, a superb piece of focused narrative that's more immediately coherent than such digressive pieces as 2009's Melancholia.
Norte is a comparatively streamlined piece of storytelling, as well as stylistically different from other Diaz films.
The fact that Diaz is shooting in colour rather than his usual black and white brings this outright maverick, previously resident in the austere margins of the film circuit, somewhere closer to the art-house action. Not that Norte is commercial, but it's a Diaz film that, despite its formidable length, intrepid niche distributors might for once consider exposing.
The closest comparisons to this leisurely mini-epic are the films of Hou Hsaio-Hsien or perhaps Edward Yang's A Brighter Summer Day, although in the final stretch, an apocalyptic turn suggests echoes of Bruno Dumont or Carlos Reygadas. But this is very much a Lav Diaz film, with his characteristic narrative turns, however gently he negotiates the chicanes.
The film begins by introducing Fabian (Lucero), a disillusioned young urban intellectual who's abandoned his law studies and now likes to sit around with his friends talking about existentialism, ethics and the murky recent political past of the Philippines. Another strand follows the family of Joaquin (Alemania), a villager whose broken leg has kept him out of work, bringing his family hard times. What the two men have in common is that they are clients of Magda (Mae Paner), an obese and hard-hearted moneylender.
It's over an hour into the action that Diaz shows his Dostoevskian cards, as Fabian kills Magda and her daughter - a crime for which Joaquin takes the rap. Fabian now disappears for much of the action - apart from a brush with some well-meaning Christians in Manila - and the film largely follows Joaquin's life behind bars, tangling with and then befriending prison hard man Wakwak (Soliman Cruz), and Joaquin's wife Eliza (Bayani) as she attempts to support her family over four years.
When Fabian returns, everything suggests that he's on course for redemption, but Diaz has darker things in mind, and the last half-hour give us several unexpected shocks, not to mention a quasi-mystical dream moment that nicely punctures the general realist tenor.
Some previous Diaz films have tended to wander narratively wherever production circumstances take them, partly as a result of his improvisatory, work-in-progress approach to shooting. But Norte is a comparatively streamlined piece of storytelling, as well as stylistically different from other Diaz films.
Instead of the extended tableau-like locked shots, this one has rhythmic editing and elegant camera moves, together with some poised compositions and sometimes vibrant lighting from cinematographer Lauro Rene Manda. And some of the long takes are still there, sometimes mustering huge emotional intensity. Diaz has a reputation as a hard director, but Norte has grace, humanity and narrative verve aplenty, along with intellectual clout - although some Filipino political references may be lost on most viewers.
Production company/sales contact: Wacky O Productions, moira.pelikula@gmail.com
Producer: Moira (Raymond Lee)
Screenplay: Lav Diaz, Rudy Vera
Cinematography: Lauro Rene Manda
Editor: Lav Diaz
Production designer: Perry Dizon
Main cast: Sid Lucero, Archie Alemania, Angeli Bayani, Angelina Kanapi