Lionsgate's action-thriller debuts top with preview-boosted $3.4m (£2.2m); StudioCanal's Evil Dead scares up $2.1m (£1.4m) to chart third.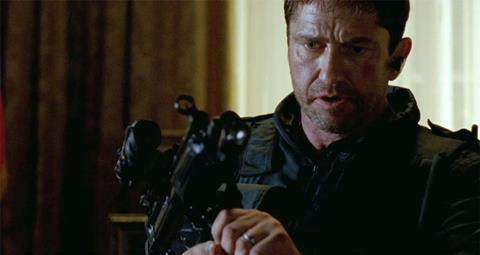 Despite a somewhat soft market as a result of the good weather, Lionsgate's Olympus Has Fallen still managed to explode into life at the UK box office, knocking Oblivion off the top spot after just one week.
Antoine Fuqua's action-thriller - the first of two films this year which sees the White House come under attack from terrorists - scored an excellent $3.4m (£2.2m) debut, including $992,000 (£651,675) in previews. from 453 sites.
That marks Fuqua's best-ever UK debut, topping the $2.9m (£1.9m) achieved by King Arthur, which is also the director's strongest UK performer at $10.8m (£7.1m).
It's worth noting however that based solely on its Fri-Sun figures of $2.4m (£1.6m), Olympus Has Fallen would have found itself in second place.
Also for Lionsgate, Rebellion received a limited release of 7 sites, grossing $7,259 (£4,762).
Last week's champion Oblivion dropped 51% on its preview-boosted debut as it fell to second.
Universal's sci-fi grossed a further $2.5m (£1.7m) to climb to $12.3m (£8.1m), which puts it around £2m behind director Joseph Kosinski's previous feature Tron: Legacy. It still has some way to go to match Tom Cruise's previous forays into the genre, the lowest of which is Minority Report's $31.5m (£20.7m) haul.
Also for Universal, Promised Land debuted with $79,000 (£52,000), resulting in a weak $594 (£390) site average.
StudioCanal's Evil Dead opened in third, thanks to a solid $2.1m (£1.4m) from its 394 sites, including previews of $439,000 (£287,973).
The distributor also expanded The Place Beyond the Pines to 181 sites, resulting in an $888,000 (£582,092) second weekend for $2.5m (£1.6m) after ten days in play.
Dropping two places to fourth was Fox's The Croods, which added $1m (£676,019) for an excellent $36.2m (£23.7m) to date.
The 3D animation is now ahead of Shark Tale's $35.1m (£23.1m) UK haul in terms of original DreamWorks Animation features.
Also for Fox, Trance is up to $6.6m (£4.4m) after four weeks in play.
Arrow's Love Is All You Need recorded a healthy non-final debut of $308,000 (£202,176) from its 134 sites, including $6,611 (£4,339) in previews.
That result means it's already director Susanne Bier's best-ever UK performer, although it's worth noting that Bier's previous widest release was 70 for Things We Lost In The Fire.
Paramount's G.I. Joe: Retaliation is up to $11.1m (£7.3m) following a $291,000 (£191,201) weekend.
For Disney, Oz the Great and Powerful added $209,000 (£137,363) for $22.7m (£14.9m) to date, while The Odd Life of Timothy Green is up to $1.4m (£925,532).
Wreck-It Ralph has grossed a superb $35.7m (£23.4m).
This week's only saturation release belongs to Disney's Iron Man 3 (opens April 25), while StudioCanal's The Look of Love receives a wide release. The Works' Bernie and Eureka's The ABCs of Death are among the films receiving a limited release.
For more of Screen's box office news, analysis and charts, visit our Box Office section by clicking the icon below.