Screen International brings you four London location case studies.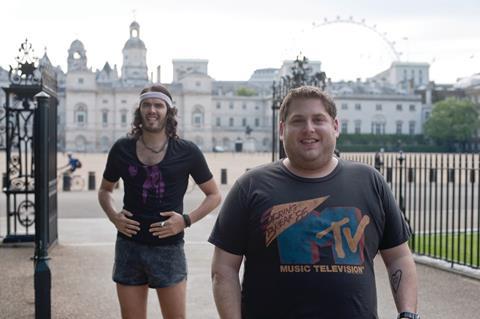 StreetDance 3D
"London is a beautiful, rom­antic city. We wanted to show it at its best," says James Richardson, the London-based producer of ­ StreetDance 3D.
The live-action film, about a street-dancing crew who are forced to team up with ballet dancers in exchange for rehearsal space at the Royal Ballet School, shot for eight weeks in the UK capital this summer.
Co-directed by debut film-makers Max Giwa and Dania Pasquini, StreetDance stars Nichola Burley and Charlotte Rampling with the stars of the Britain's Got Talent TV show, Diversity and Flawless.
"We tried to put together a series of locations that complement the film and the 3D format," says the film's location manager Joel Holmes. These include London's Southbank, Borough Market and Shoreditch Town Hall. The crew were also granted permission to shoot in the usually off-limits auditorium of the Royal Opera House.
One of the biggest challenges was filming at London's chaotic Notting Hill Carnival.
"We liaised with the Royal Borough of Kensington and Chelsea authority, and made arrangements to film from a [carnival] float. Then we got the cast joining in the procession," says Holmes.
For another scene, the team took advantage of the recent change in legislation which means that road closures can be granted by the traffic authority for the purpose of filming on London's streets, through special traffic management orders.
"We were filming a motorbike weaving through traffic, so we decided the only way to do it safely was to close the road," explains Holmes.
Street Dance is backed by BBC Films and the UK Film Council's Premiere Fund, as well as Ingenious Pictures. Vertigo Films is set to release the film in the UK in May 2010, and Protagonist Pictures is handling international sales.
Sarah Cooper
Get Him To The Greek
Nicholas Stoller's Get Him To The Greek, a spin-off from Universal Pictures' 2008 comedy Forgetting Sarah Marshall, decamped to London from the US for three weeks this August as part of its 14-week shoot. "It was a long shoot, across two countries and four cities, and London was a great finale for us," says David Bushell, who is producing the film with Judd Apatow for Universal.
Get Him To The Greek follows a young record executive (Jonah Hill) sent to London to retrieve UK rock star Aldous Snow (Russell Brand, reprising his Sarah Marshall role) and take him back to the Greek Theatre in Hollywood. "We could easily have shot certain things in LA, but we wanted to put value up on the screen throughout the film," says Bushell.
Locations included Trafalgar Square, St James's Park, Stansted Airport, the Cavendish Club and Hatfield House, just outside London.
A race-against-time scene to Heathrow airport was filmed around Waterloo Place, one of the city's busiest areas. "We didn't have time to obtain a road closure so we managed to use a section of the road to film, while the public were able to both work and drive around the whole area as normal," says location manager Alex Gladstone. "It was a neat way to achieve what we wanted to achieve without interfering with the real world."
Bushell admits that traffic and parking proved to be a challenge. "Our base camp often ended up being a couple of miles from locations, which isn't ideal. In New York City, you can park on the streets more easily."
Sarah Cooper
Swinging With The Finkels
When UK director Jonathan Newman finished the five-week London location shoot for his second feature, the romantic comedy Swinging With The Finkels, he thought to himself: "Next time, I'm going to shoot in a studio." A few weeks on and the exhaustion has faded. "Of course I'll shoot in London again," he says. "Jumping around between locations, it struck me how beautiful this city is."
The low-budget comedy stars Martin Freeman and Mandy Moore as a couple facing the realities of marriage. Apart from two days in Cambridge, the film shot entirely in London at locations including Borough Market, Primrose Hill and Dulwich, a swanky southern suburb. The production also built six or seven sets at a disused army barracks in Mill Hill.
"I started off with a grand vision which I'm sure included visions of shooting in Covent Garden and New Bond Street," says Newman. "But pragmatism kicks in when you are confronted with hard economics."
The director says he found the biggest challenges to be the traffic, the noise, the people and the weather. "The house we used in Dulwich was on a main road and the exterior sound from that shoot is unusable. Like any location shoot, you need either time or control and control translates into money."
As for the public, Londoners are busy people. "We locked down an entrance to Borough Market for five minutes and the public almost threatened riots," Newman recalls.
Swinging With The Finkels is produced by Reliance ADA and Starlight Films, with backing from Kintop Pictures, Urban Island and Filmaka. London-based Simon Crowe's SC Films International is handling sales.
Louise Tutt
London Boulevard
William Monahan's $30m directorial debut, London Boulevard, shot for 10 weeks on location in London this summer. It is produced by Graham King's Los Angeles-based GK Films and stars Colin Farrell as an ex-convict newly released from prison who becomes involved with a reclusive actress played by Keira Knightley.
The production shot in two main areas of London ― ritzy Holland Park in west London and the edgier Kennington and Elephant and Castle just south of the river. Other locations included the Italian Fountain in Kensington Gardens and the Bank of Ireland in Shepherd's Bush.
Art mimicked life in one area of the production. Knightley's character is hounded by the press, and one of the biggest challenges was shrugging off the real-life paparazzi who shadow Knightley's every move.
"We were shooting a scene where Keira comes out of her house, and behind the actors pretending to be paparazzi were the real thing," says King who says he relished shooting in his native UK. "This is the second movie I've made here recently, after The Young Victoria. There's so much talent in this country.
"I hadn't worked with any of the crew before, but they were amazing," he adds. "The chemistry is great here, and when you make an indie movie like this which is a passion project, you become a family."
The team worked closely with Film London on sourcing locations. "Graham had a good experience with The Young Victoria and working in London must have filled him with the confidence that he could achieve what he wanted to achieve," says Sue Hayes, who heads up the locations team at Film London.
For UK-based location manager David Broder, the best thing about shooting in London is the "diversity and the layers of history and atmosphere… but bureaucracy can be challenging".
London Boulevard is now in post-production.
Sarah Cooper
The inside scoop
Film-makers give their tips about shooting in London:
"Forward plan as much possible."
"Liaise with local authorities and the local police."
"Use Film London as a resource. There's always someone there to give advice on locations."
"If your budget is smaller, you can avoid the congestion charge and still get superb views of London by shooting south of the river."
"To obtain a road closure, you need to give five months' notice."
"Film London has lots of contacts and resources for locations."
"Sometimes it's cheaper and easier to get three parking tickets than to get the street closed."