Dir: Walter Salles. France-Brazil. 2012. 137mins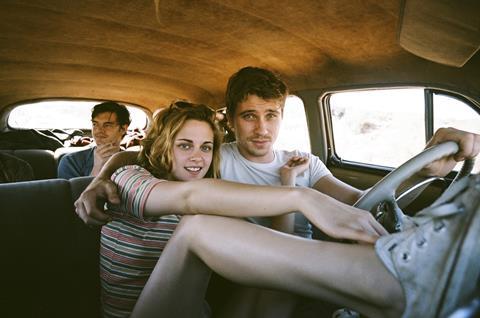 After more than five decades of thwarted adaptations, Jack Kerouac's iconic 1957 Beat generation novel has finally made it to the screen. But while it's well cast, resplendently shot and buoyed up by a moody, pitch-perfect jazz soundtrack, On The Road fails to "burn, burn, burn like fabulous roman candles", to quote one of the more celebrated passages from Kerouac's book. Walter Salles' film is designer Kerouac, a slick product that deploys all the tools of the big-budget, award-chasing indie film – some handheld camera, a little desaturated colour, hot young actors – to craft a product that feels oddly flat despite the romantic, creative, freewheeling lifestyle it enshrines. There are moments, to be fair, when it captures something of the bebop spirit of the age; but much of the time it feels more like a Beat generation brochure.
In its relentless pursuit of visual and aural polish and in the way it tamely critiques Kerouac's legend at the same time that it glorifies it, On The Road feels a little shallow.
Still, the polite ripple of applause the film received after its Cannes press screening will translate into a more than polite ripple of box-office action for a commercially smart film that will attract both older audience nostalgic for the buzz Kerouac's book gave them all those years ago and younger kids curious about the Beat mythology. For the latter demographic, the on-the-money casting of Garrett Hedlund (Tron: Legacy), Sam Riley (Control) and Kristen Stewart (The Twilight Saga) will also exercise a pull. Nominations, when they come, will likely be for adapted screenplay (if only for the courage of finally rising to challenge), cinematography and, possibly, best actor for Hedlund (who smoulders like a young Brad Pitt in a camera-hogging performance).
Part adaptation ,part biopic, the film dips into both Kerouac's novel and his real life between 1947 and 1951, the years of his friendship with Neal Cassady, the main character and inspiration of the author's heavily autobiographical novel. The real-life characters are given fictional monikers, exactly as in the book: Kerouac himself becomes Sal Paradise; Cassady is Dean Moriarty; Kerouac's Beat poet friend Allen Ginsberg is Carlo Marx; and Cassady's first wife LuAnne Henderson is Marylou.
It's the shifting quadrangle of alliances formed by Dean (Hedlund), Sal (Riley), Marylou (Stewart) and, to a lesser extent, Carlo (Sturridge) that the script homes in on, as the foursome criss-cross America from New York to Denver (Dean and Marylou's hometown) to California, and back. Along the way Dean divorces Marylou for the more conventional Camille (Dunst), the novel's name for Carolyn, the mother of Cassady's three children – but he keeps Marylou on as his lover. Also featuring, in a New Orleans sequence, is Old Bull Lee (Mortensen), aka the original junkie writer, William Burroughs, and Terry (Braga), a single mother Sal has a brief affair with while working in the California cotton fields.
With his background of petty crime, string of romantic conquests and self-taught literary yearnings, the effortlessly virile Dean is a magnetic figure for the more introverted Sal, who admires, it is suggested, his impulsiveness and freedom from social constraint. Carlo's own admiration of Dean is complicated by his homosexuality and Dean's occasional bisexuality (he sometimes plays the rentboy to make some extra money).
Uncomplicatedly sexy Marylou is perhaps the only one who sees Dean as he is: fun to be with, a great lover but entirely selfish. Sal's gradual facing up to Dean's inability to accept responsibility or remain loyal to friends and lovers is the backbone of the film's otherwise freewheeling road-movie structure.
Given that Jose Rivera's script draws on Kerouac's life as well as the book that made him famous, plenty of facts are fudged perhaps the chief one being the suggestion that On The Road was the first proper literary product of the obsessive notebook scribbling we see Sal indulging in throughout. Whereas Kerouac actually published his debut novel, The Town And The City, during the period covered here. There's no sign, either, of Kerouac's wife of the time, Joan Haverty. But these truth tweaks are all of a piece with the film version's indulgent embrace of Kerouac's self-sustaining myth.
Even the tubes of Benzedrine that are hoovered up by the protagonists look pretty in a film that goes for atmosphere over emotion and the ticking off of cultural references (from Proust via Rimbaud to Charlie Parker) that it never quite knows what to do with. The sunset-kissed or snow-dusted rural landscapes of America (mostly shot on location in Canada) are ravishing, and the soundtrack, scored by Gustavo Santaolalla with jazz musicians Charlie Haden and Brian Blade, is a concise snapshot of the era. But in its relentless pursuit of visual and aural polish and in the way it tamely critiques Kerouac's legend at the same time that it glorifies it, On The Road feels a little shallow.
Production companies: MK2 and American Zoetrope present a Jerry Leider Company production in association with Vanguard Films, Film 4, France 2 Cinema
International sales: MK2, www.mk2pro.com
Producers: Nathanael Karmitz, Charles Gillibert, Rebecca Yeldham, Roman Coppola
Executive producers: Francis Ford Coppola, John Williams, Jerry Leider and Tessa Ross, Arpad Busson
Screenplay: Jose Rivera, from the novel by Jack Kerouac
Cinematography: Eric Gautier
Editor: Francois Gedigier
Production designer: Carlos Conti
Music: Gustavo Santaolalla
Main cast: Garrett Hedlund, Sam Riley, Kristen Stewart, Amy Adams, Tom Sturridge, Danny Morgan, Alice Braga, Marie-Ginette Guay, Elisabeth Moss, Kirsten Dunst, Viggo Mortensen