Dir: David Frankel. UK. 2013. 103mins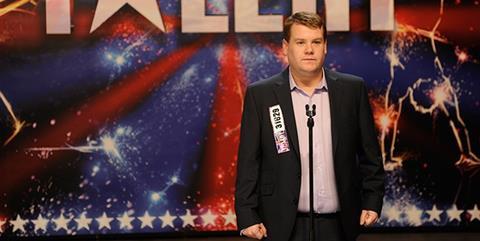 From the very first lilting chord over the opening credits, it's glaringly apparent that One Chance, based on the true story of Britain's Got Talent winner Paul Potts, aims to please. And it does. A sweet and sentimental by-the-numbers chronicle of a young man's unlikely rise to fame, the movie hits all the right notes. Though audiences might not need another musically driven crowd-pleaser about overcoming the odds, it's difficult to deny the charm of Pott's story, as capably told by Hollywood veterans David Frankel (The Devil Wears Prada) and screenwriter Justin Zackham (The Bucket List).
The movie accomplishes exactly what it sets out to do as a feel-good entertainment. One Chance doesn't blow its opportunity.
Following in the footsteps of similarly heartwarming UK breakouts, from The Full Monty to Once, The Weinstein Company-backed project seems perfectly constructed for breakout success.
As a pudgy boyish man from a small industrial town in Wales, Potts (Corden) is the last person you'd expect to belt out Italian operatic lyrics with the force of a Pavarotti. After a brief prologue that introduces Potts' perennial struggles with the local bullies, we learn that Potts still lives at home with his supportive mom (Walters), his hard-nosed factory-working dad (Meaney) and has a job at the local cellphone store with his scraggy elfin-loving eccentric friend (Crook). Potts is lonely and plagued by a lack of self-confidence, but things quickly begin to change when he develops a romance with Julie-Ann, a checkout girl he met on the Internet (Roach), and realises his dream of studying opera in Italy.
The first half of the film builds up the audience's affection for Potts, an investment in his budding romance, and effectively encourages viewers to root for the pure-hearted young man. Then, predictably, adversity comes; he falters during his first big audition and encounters several medical emergencies; but above all, the film focuses on Pott's biggest challenge: Overcoming his own insecurities.
One Chance delivers on a familiar formula again and again—one in which an apparent loser stuns his detractors, wins them over and proves his tremendous worth. It's the basis of most reality TV shows—from Britain's Got Talent to American Idol—where ordinary folks come out of nowhere and surprise the likes of Simon Cowell (a producer on One Chance, who also appears). But rather than focus on the TV competition itself (smartly, the show figures only briefly in the film), the movie builds the device into its narrative throughout; in one early scene, for instance, Potts delivers a stirring rendition of "Pagliacci" in a raucous pub talent show; the pint-drinking blokes suddenly go silent and break out in a round of applause.
Such scenes may be manipulative—that Potts would actually wear a big clown costume to a bar goes a bit too far—but they're also effective at winning an audience over. It also helps that James Corden's Potts is the epitome of the chunky lovable loser, while Alexandra Roach's dutiful girlfriend and then wife is beyond reproach. Additionally, Mackenzie Crookie and Colm Meaney effortlessly carry off their supporting roles—the bizarre friend and the abrasive father, respectively.
One could fault the filmmaking team for employing such likeable archetypes and polished elements, from its smooth production values to its formulaic structure. But ultimately, the movie accomplishes exactly what it sets out to do as a feel-good entertainment. One Chance doesn't blow its opportunity.
Production Companies: The Weinstein Company, Evolution Entertainment, Weston Pictures
International sales: The Weinstein Company, www.weinsteinco.com
Producers: Michael Menchel, Simon Cowell, Brad Weston, Kris Thykier
Executive Producers: Bob Weinstein, Harvey Weinstein, Steve Whitney
Screenplay: Justin Zackham
Cinematography: Florian Ballhaus
Editor: Wendy Greene Bricmont
Production Designer: Martin Childs
Music: Becky Bentham, Dana Sano, Theodore Shapiro
Main cast: James Corden, Alexandra Roach, Julie Walters, Mackenzie Crook, Colm Meaney