The festival, set to run in Mexico from November 11-15, has unveiled the selections in its After Dark, American Specials and Green programmes.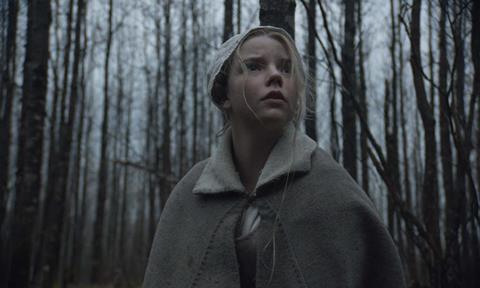 Entries in the After Dark genre section feature films that have garnered acclaim at other festivals and include Matteo Garrone's Tale Of Tales and the Latin American premieres of Robert Eggers' The Witch (pictured) and Bo Mikkelsen's What We Become.
The American Specials selections present Mexican permieres of Scott Cooper's Black Mass and Marielle Heller's The Diary of A Teenage Girl.
The Green strand presented by Discovery Channel showcases the Latin American premiere of Cyril Barbançon and Andy Byatt's Hurricane 3D and the Mexican premieres of Louie Psihoyos's Racing Extinction and Luc Jacqyet's La Glace Et Le Ciel.
Festival top brass have also announced entries in the Cabos In Progress initiative for films in post that are made in or being produced with Mexico.
The selections will screen to Los Cabos attendees and become eligible to qualify for the Los Cabos Goes To Cannes showcase.
The selections are: Bellas de Noche directed by María José Cuevas and produced by Christian Valdelièvre, Alberto Müffelmann, Jaime Bernardo Ramos Montoya and Gerardo Gatica; Carroña directed and produced by Sebastián Hiriart; El Fracas directed by Ricardo Silva and produced by Paulina Valencia; La Habitación directed by Carlos Carrera, Daniel Giménez Cacho, Carlos Bolado, Ernesto Contreras, Alfonso Pineda Ulloa, Alejandro Valle, Iván Ávila Dueñas and Natalia Beristáin and produced by Edher Campos, Luis Salinas, Marta Lewandowska and Marta Habior.
Los Paisajes is directed by Rodrigo Cervantes and produced by Pauline Galtié; Somos Lengua is directed by Kyzza Terrazas and produced by Carlos Sosa and Laura Imperiale; and Verónica is directed by Carlos Algara and Alejandro Martínez and produced by Juan Carlos Segura
Films in the Cabos Discovery section comprise projects in development made in or co-produced by Mexico, the US or Canada.
Entries are:
Sunbathing In Hell (Canada)
Director: Sophie Deraspe
Producer: Félize Frappier;

I'm Not A Bad Person (Canada)
Director: Andrew Huculiak
Producers: Nicole I Dyck, Amy Darling, Josh Huculiak;
Merciful (Canada) selected from Strategic Partners
Producer: Marc Almon;
Salón de Belleza (USA-Mexico)
Director: Andrea Pallaoro
Producers: Eleonora Granata, Jonathan Venguer;
Nancy (USA) – selected from IFP
Director: Christina Choe
Producers: Gerry Kim, Mayuran Tiruchelvam, Kelly Willias and Jonathan Duffy;
Picking Cotton (USA) selected from Tribeca Film Institute
Director and producer: Jessica Sanders;
The Taste Of The Apple Is Red (Syria, Qatar and USA) selected from Cine-Link Sarajevo Film Festival
Director: Ehab Tarabieh
Producer: Solomon Goodman;
Calla (Mexico)
Director: Jorge Michel Grau
Producer: Mayra Espinosa Castro;
Gunpowder Seeds (Mexico)
Director: Arturo González Villaseñor
Producers: Sebastián Celis and Nicolás Celis;

Memoria De Los Días Rojos (Mexico)
Director and producer: Rafa Lara;
Skin Deep (Mexico)
Director: Paulina del Paso
Producers: Elisa Miller;

Casi El Paraíso (Mexico)
Director: Gaz Alazraki
Producers: Edgar San Juan and Leonardo Zimbrón; and

Opus Zero (Mexico)
Director: Daniel Graham
Producer: Julio Chavezmontes.