Dir: Michael Bay. US. 2013. 129mins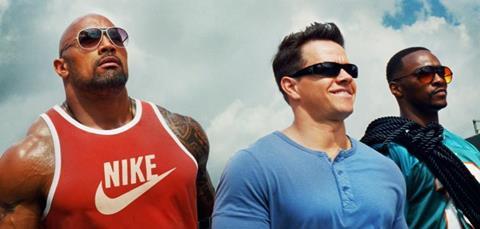 As an avowed, no-nonsense peddler of cinematic excess, director Michael Bay would in some respects seem to be the ideal candidate to bring to the big screen the deliciously weird and over-the-top true crime story at the center of Pain & Gain, starring Mark Wahlberg and Dwayne "The Rock" Johnson. Unfortunately this down-and-dirty air-quote character piece, a florid and casually misogynistic action dramedy that marks Bay's least expensive production since his debut film, comes unglued early on, and then spends two hours-plus thrashing about wildly, to only middling effect.
Bay's characteristic visual fetishes — from low-angle God shots and leering framing — conspire to help overwhelm the material.
Madly trading off rambling voiceover narration from character to character, like a relay race baton, Pain & Gain takes the tale of a group of brutal yet idiotic criminals and twists it into a series of hyper-masculine poses, masquerading as some sort of statement on the new American dream.
The star power of Johnson and Wahlberg (and curiosity over the latter's teaming with Bay before their pairing on next year's fourth Transformers film) will guarantee big opening weekend business, as will the likely impact of the trio's significant promotional efforts (all waived their usual fees in exchange for back-end profits). But, given its unwieldy length and the fact that it's not quite as funny as it fancies itself, Pain & Gain will find itself outgunned in short order by bigger summer spectacle, particularly the following week's Iron Man 3.
Pain & Gain unfolds in the mid-1990s, which informs some of its colorfully mismatched fashion sense. Ambitious small-time ex-con and amateur bodybuilder Daniel Lugo (Wahlberg) gets a job as a personal trainer at a Miami gym, where his ideas (free membership for strippers) deliver the quick boost in membership he promised his new boss (Rob Corddry).
Daniel isn't satisfied, however. Inspired by the teachings of a deranged infomercial pitchman (Ken Jeong), he seizes upon a simple scheme: kidnap one of his rich clients, Victor Kershaw (Tony Shalhoub), and force him to sign over all his assets. To help, Daniel recruits his coworker Adrian Doorbal (Anthony Mackie) plus Paul Doyle (Johnson), a recently paroled (and even more recently sober) born-again Christian.
Victor turns out to be tougher than expected. He finally cracks, and signs a bunch of papers, but survives a murder attempt, goes into hiding and hires private investigator Ed Dubois (Ed Harris, classing up the joint) to try to help bring down Daniel and company, who've taken over his house and money. Paul and Adrian's attentions drift to their respective girlfriends (Bar Paly and Rebel Wilson) for a while. But undue spending eventually breeds more appetite, leading the gang to similarly target a scummy porn producer (Michael Rispoli), after which point things go further sideways.
Screenwriters Christopher Markus and Stephen McFeely, who together have penned scripts for three Chronicles of Narnia movies, two Captain America films and the dark comedy You Kill Me, seem to struggle in figuring out how to pare down their source material, resulting in the aforementioned misguided round-robin narration, which muddies perspective and identification. While their criminal protagonists are various levels of dumb, sharper differentiation falls by the wayside as things progress. And an end coda on the real-life figures only further sullies a bizarre courtroom sequence that helps bring matters to a close.
In the hands of another director more invested in character, Pain & Gain might truly sing. But Bay seems to think everything about this tale is naturally funny, from the random beating of a homosexual supporting character to scenes of Daniel mentoring neighborhood kids that play like weird outtakes from some nonexistent Drillbit Taylor spinoff.
Bay's characteristic visual fetishes — from low-angle God shots and leering framing — conspire to help overwhelm the material. Human moments of friction and darkly comedic warped thinking aren't allowed to exist, smothered as they are under a go-go rhythm that can't sustain itself for the film's duration. The movies that Pain & Gain would most like to emulate — True Romance, Savages, Wild Things, Domino and Very Bad Things — all have crisper characterisations and more streamlined narratives.
Daniel comes off as a cousin of Wahlberg's manic, hotheaded I Heart Huckabees character, Tommy Corn; the actor brings much intensity to the role, and charts a certain course of escalating agitation, but Daniel remains a collection of actions and attitudes, not a character. Similarly, Johnson wrings some amusement from both his character's religious devotion and increasing dependence upon cocaine, but without a deeply sketched, unifying personality. The real scene-stealer is Shaloub, who as the mangled, put-upon Victor comes across as a real-life Wile E. Coyote, finally able to extract some measure of revenge.
Production companies: De Line Pictures
Domestic distribution: Paramount Pictures
Producers: Donald De Line, Michael Bay, Ian Bryce
Executive producers: Matthew Cohan, Wendy Japhet
Co-producers: Alma Kuttruff, Michael Kase
Screenplay: Christopher Markus & Stephen McFeely, based on magazine articles by Pete Collins
Cinematography: Ben Seresin
Editors: Joel Negron, Thomas Muldoon
Production designer: Jeffrey Beecroft
Music: Steve Jablonsky
Website: www.PainAndGainMovie.com
Main cast: Mark Wahlberg, Dwayne "The Rock" Johnson, Anthony Mackie, Tony Shalhoub, Ed Harris, Rob Corddry, Bar Paly, Rebel Wilson, Ken Jeong, Michael Rispoli, Keili Lefkovitz, Emily Rutherfurd, Larry Hankin