Dir: John Turturro. Italy-US. 2009. 90mins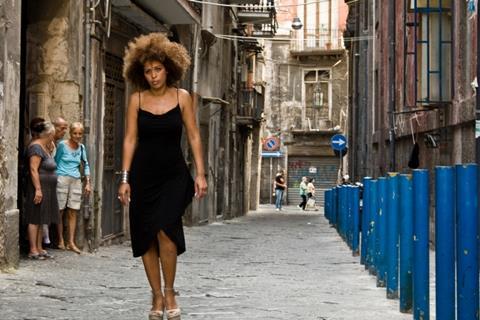 Commissioned by Cine Citta and Istitutto Luce, produced with the help of all the cultural authorities in the province of Naples, in cooperation with RAI and the Italian Ministry for Cultural Assets and Activities, this musical portrait of Naples is evidently an official initiative intended to clean up the tarnished image of the city, recently dragged through the mud not only by scandals and criminal corruption and by such brutal films like the much awarded Gomorra.
The film is a letter of love to a city and its music signed by an admirer with a selective eye.
Choosing for the job someone like John Turturro, who had directed a musical, Romance and Cigarettes, shown in Venice five years ago, seems like a judicious decision, hoping that this American star of Italian origins would certainly draw larger audiences worldwide, drawing attention to the fact that music is probably Naples' best-selling feature.
Though ultimately a plot-less TV musical show presenting a series of songs shot all around the city with some of its best performers, with Turturro himself acting as the master of ceremonies, this kind of product rarely reaches the possibility of theatrical distribution, and will most likely find a home on TV screens, where it is bound to be considered a must by lovers of Neapolitan music.
The format itself used to be popular in the 1950s, before the explosion of the television market, when Italy was exporting quite a lot of musical these shows, sometimes, but not always, tied up together with an excuse of a plot, but today they are pretty much of a rarity.
Turturro, claiming to be passionately in love with the city of Naples and its music, has picked songs which reflect not only the spirit of the city and its history, the immense vitality of its inhabitants and their sweeping romanticism, but also the various African, Spanish, Arabic, French and American influences which left behind their traces with every new invasion and conquest.
Unlike the Venice gondoliers, his preference goes for less sugar and some cutting edge, for performers with a strong dramatic or comic approach, capable of finding something fresh and unusual even in such tired warhorses like O Sole Mio or Malafemmena. Alternating between the internationally famous Mina or Massimo Ranieri, the furiously unmitigated passion of Misia or Pietra Pontecorvino, and the light buffoonery of Fiorello delivering Renato Carosone's Caravan Petrol, in generally rousing, energetic interpretations, superbly recorded and picturesquely decorated with Naples landscape, with Turturro himself (signing under his nickname, Giua) adding a choreographic touch here and there, this is the kind of show to be enjoyed on its own merits, for what it is… a letter of love to a city and its music signed by an admirer with a selective eye. There is certainly a lot more to see and show, but he would rather have others do it.
Production companies: Beta Cinema
Producers: Alessandra Maciai, Carlo Machitella, Giorgio Magliulo
International Sales: Beta Cinema, www.betacinema.com
Screenplay: John Turturro, Federico Vacalebre based on idea by Carlo Machitella
Cinematography: Marco Pontecorvo
Costume design: Alessandra Gaudioso
Editor Simona Paggi
Choreography: Giua (John Turturro)
Main cast: John Turturro, Max Casella, Lina Sastri, Mina, Massimo Ranieri,Pietra Montecrovino,M'Barka Ben Taleb, Gennaro Cosmo Parlato, Peppe Barra, Angela Luce, Raiz, James Senese, Fausto Cigliano, Fiorello, Danile fiorentino, Lorenzo Tamaggio, Enzo Avitabile, Pino Daniele.