Dir. Ian Fitzgibbon. Ireland/UK. 2009. 88 mins.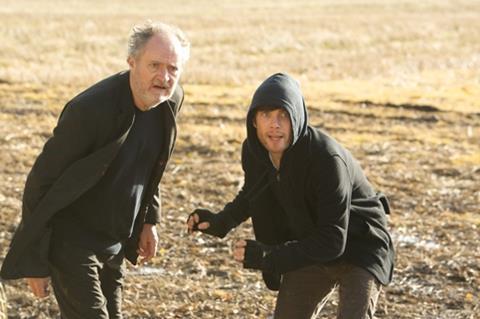 Showy turns from Jim Broadbent, Cillian Murphy and Brendan Gleeson only underline the thinness of the material in Perrier's Bounty, Ian Fitzgibbon's under-developed Irish take on the lowlife terrain conquered by Guy Ritchie & co. Any hopes of an In Bruges-style crack at the genre fade early on as Mark O' Rowe's screenplay fails to capitalise on a stirring start, and there's not much in the lensing or locations to nourish a hungry audience, leaving it all for the cast to carry.
Despite a dodgy Dublin accent, Broadbent in particular may secure Perrier some media interest and theatrical action in home territories, but this seems destined for ancillary elsewhere - where the shelf is crowded with similar, flashier fare.
Part of the problem is the lead character of Michael McCrea, whom Murphy plays with characteristic intelligence. Later referred to as "enigmatic", he's more of a cipher, a badly-drawn boy. In debt to gangster Perrier (Gleeson) to the tune of Euros 1,000 (not an impossible amount of money) for frustratingly unspecified reasons (why, also, does he have a gun?), Michael is a man without a past, present, or, it would seem, much of a future, as Perrier's two thugs have threatened to break two of his limbs if he doesn't come up with the cash in four hours.
While in search of another lowlife called Mutt (Liam Cunningham) to loan him the readies and keep Perrier at bay, Michael encounters his neighbour Brenda (Jodie Whittaker) and listens to more of her laments about her dodgy boyfriend Darren, and his father (Broadbent) makes a distracting appearance, claiming to be suffering from cancer but really in dialogue with the devil.
Dotted with rich but loosely indulgent dialogue (the Irish penchant for a swear word is fully indulged; the gangsters all get faux-hip speeches) and a few fierce dogs, this all grinds to an inevitable and violent conclusion in pool halls and disused factories in an autumnal Dublin and its environs. Much more appealing is the relationship between Michael, his father and Brenda, with Fitzgibbin showing a much defter hand.
Most troubling about Perrier's Bounty is the fact that it's almost all there: more time on script development could have made a huge difference to what ends up onscreen.
Broadbent's appearance always seems to point at the possibility of a star turn along the lines of Ben Kingsley in Sexy Beast, but despite his undoubted charisma, it never quite materialises. Cillian Murphy hints that there's more to the layabout in Michael, but once again, this isn't followed up. Fitzgibbon doesn't always have the tight grip on pacing that this very specific genre requires.
Production values are decent if unexceptional throughout. Dublin, and what looks like the Wicklow mountains outside, are suitably damp and dark, lightened only by the central trio's trip through the countryside.
Production companies
Parallel Films
Number 9 Films
International sales
HanWay Films
+ 44 (0)207 290 0750
Producers
Alan Moloney
Stephen Woolley
Elizabeth Karlsen
Screenplay
Mark O'Rowe
Cinematography
Seamus Deasey
Editor
Tony Cranstoun
Production designer
Amanda McArthur
Main cast
Cillian Murphy
Jodie Whittaker
Jim Broadbent
Brendan Gleeson