EXCLUSIVE: Co-founder of Cineworld-owned Picturehouse to step down after more than 25 years at helm; interim MD appointed.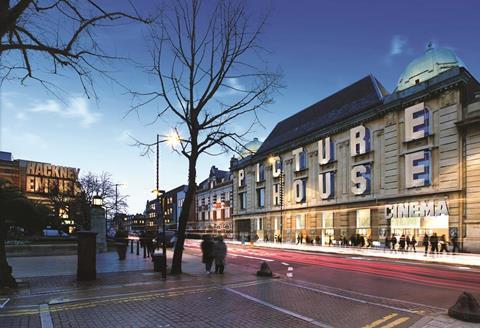 Picturehouse co-founder and MD Lyn Goleby is to leave the UK exhibition stalwart she launched more than 25 years ago.
The departure was announced to staff internally today with the long-time executive set to leave in the coming weeks.
Screen sources indicate that the departure is an amicable break and in a statement to Screen Goleby said she plans to continue working with the film industry.
Cineworld acquired the UK art-house kingpin for £47.3 million in December 2012, since when it has opened its flagship venue in Piccadilly Circus, London.
Entrepreneur Goleby and co-founder Tony Jones started the popular group by buying the Phoenix cinema in Oxford in 1989. It has since expanded through acquiring and building cinemas, notably in London and university cities such as Cambridge, Edinburgh, Brighton and York.
The brand currently operates 24 venues and under Goleby's stewardship - and that of in-house exec Clare Binns - it has built a formidable event cinema offering as well as its own distribution label.
Cineworld chief commercial Officer Renana Teperberg will assume the responsibilities of managing director of Picturehouse on an interim basis until a permanent successor is appointed.
"I am very proud of the achievements of the teams at Picturehouse and I am leaving behind a strong company which has been within the Cineworld Group for nearly four years. I will always be a friend to the business I founded and hope that my future work in the industry will bring us together in new ways," said Goleby in a statement sent to Screen.
Mooky Greidinger, chief executive officer of Cineworld, commented: "On behalf of everyone in Cineworld and Picturehouse, I would like to thank Lyn for all that she has done for the company as a founder and leader, creating a brand we love and a great business that we all see as very important for our offer in the industry. Let me reassure you that we strongly believe in the Picturehouse brand and we will continue to invest and develop the business as part of the Cineworld Group. Please join me in wishing Lyn every success in her future ventures."
Tony Jones, who held a minority stake in the group, retired following the Cineworld takeover, which some industry speculated at the time could ultimately water down the group's independent credentials.
In recent months the Picturehouse group has featured in national media coverage for a series of pay-related strikes at its London venues.