Dir/scr: Francois Ozon. France. 2010. 103mins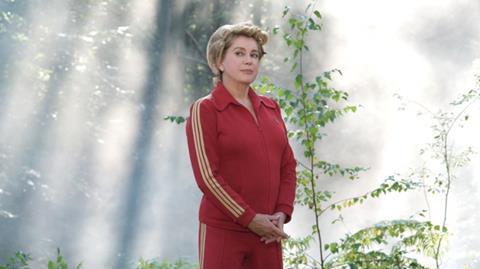 This glib, fast-talking adaptation of a 1970s stage comedy may not look much like classic festival fare but it is safe to predict it will take by assault the box-office charts in most francophone territories. A perfect vehicle for a French star-studded cast headed by such seasoned veterans as Catherine Deneuve, Gerard Depardieu and Fabrice Luchini, all of them in top form and it sparkles under Francois Ozon's guidance, going all out for sheer, unadulterated fun.
One of those rare festival entries that critics may have a hard time praising but still cherish as a secret pleasure.
Though Ozon may assume that his film is raising the flag of feminist emancipation, he is a bit late in the day for that purpose, the original play (written by Barillet and Gredy, better known for such international hits as Cactus Flower and 40 Carats) having done that 40 odd years ago, even then without taking itself too seriously. But if the message, the dialogue and most of the characters are predictable enough, his re-working of the play, to which he actually added a third act of his own, doesn't miss a beat whenever there is a quick repartee or a one line punch.
Pitting Robert Pujol (splendidly played by Luchini in his best arrogant, self-assured manner), a pompous, male chauvinist, owner and director of an umbrella factory against his glorious-looking, but sadly neglected spouse, Suzanne (Deneuve effortlessly assuming her age and making the best of it), the play starts by establishing that in this household the husband makes the decisions and the wife's role is to agree and never have an opinion on anything except the dinner menu.
Certainly not about how running the factory which she had inherited from her father and had graciously entrusted to husband 30-odd years ago. But then labour trouble erupts and highly-strung Robert is taken hostage by his employees. His wife is the one to deliver him from his captors with the help of a former beau, communist mayor Babin (Depardieu, more bearish than ever), and then take over the factory while her husband is sent on a cruise, by doctors' orders.
Once she is in the top seat, even Pujol's faithful secretary-lover, Nadege (Viard) falls for the feminine charm and savoir-faire of the new boss, who promotes her son, Laurent (Renier) and daughter Joelle (Godreche) to top assistant jobs and gets the fiery labor leaders to eat out of her hand.
By the time Robert is back, it seems no one has missed him and his attempts to retrieve his desk are about to fail (as they did in the stage version). Here, Ozon adds a twist of his own, which gives Suzanne, removed from the factory, the chance to put not only her husband but also other over-confident males in their place. She runs for a seat in the Parliament and sure enough, even the wily, experienced Babin, practically married to politics since early youth, has to concede his defeat.
Ozon seems particularly confident in adapting stage plays to films, judging by the success of such earlier efforts as Fassbinder's Water Drops on Burning Rocks and Robert Thomas' 8 Women. No doubt the Barillet and Gredy original hasn't got much new material to offer here – how many more times are we to be exposed to philandering husbands sleeping with their secretaries discover too late their wives are no saints either.
But Ozon can still keep the wheels going, first of all through smart casting, finding the right performers in this case is winning half of the battle or more. Never trying to bring the plot into the 21st century, which might have required some drastic changes, he stays in the late 1970s, which allows the daughter to betray the trust that her mother - and on a larger scale, her own sex - put in her, and it permits Laurent to give up his bride to be and turn gay without fussing over-much about it all.
Deft editing smoothes over occasional platitudes easily ignored before they can sink in. Great production design, pretty locations and flattering camera work by Yorick Le Saux round up one of those rare festival entries critics may have a hard time praising but still cherish as a secret pleasure.
Production company: Mandarin Cinema
Producers: Eric and Nicolas Altmayer
International Sales: Wild Bunch, www.wildbunch.biz
Screenplay: Francois Ozon, based on the play by Pierre Barillet and Jean-Pierre Gredy
Cinematography: Yorick Le Saux
Production designer: Katia Wyszkop
Editing: Laure Gardette
Main cast: Catherine Deneuve, Gerard Depardieu, Fabrice Luchini, Karin Viard, Jeremie Renier, Judith Godreche