Netflix, Sundance and EFM are among new delegates attending the second edition of the DFI's Qumra.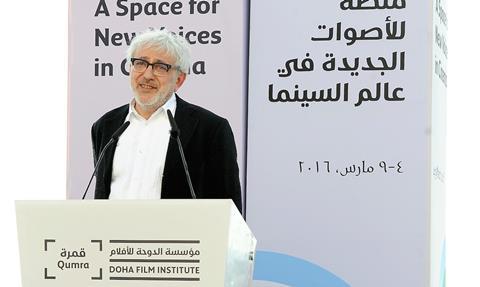 The Doha Film Institute today launched the second edition of Qumra, which is dedicated to supporting DFI-backed first- and second-time filmmakers on both a creative and practical level.
Festival directors, producers, sales executives, fund managers, script consultants, distributors and other experts attend to meet with and mentor the new talents, discuss their forthcoming projects and see works in progress. This year's emerging filmmakers represent 33 projects from 19 countries.
Returning industry delegates attending Qumra include Cameron Bailey from Toronto, Mirsad Purivatra from Sarajevo, Melbourne-based script consultant Claire Dobbs, Christophe Leparc of Cannes Directors' Fortnight, Selim El Azar from Gulf Films, Gianluca Chakra of Front Row, Paul Baboudjian of Screen Institute Beirut, French producer Marie-Pierre Macia of MPM Film, Frederic Corvez of Urban Distribution International, and representatives from Wild Bunch.
New delegates joining the second edition include Funa Maduka from Netflix, producer David Parfitt, Protagonist Pictures CEO Mike Goodridge, Philippe Bober of Coproduction Office, Locarno artistic director Carlo Chatrian, Cara Mertes of the Ford Foundation's JustFilms, Zsuzsi Bankuti of The Match Factory, Michael Werner of Fortissimo, Alexandre Mallet-Guy of Memento Films, producer Roman Paul of Razor Films, Bero Beyer of Rotterdam, Mathias Woulter-Knol from Berlin's EFM, Jane Williams of Dubai International Film Festival and Matthew Takata of Sundance Institute.
Before Snowfall writer-director Hisham Zaman (Norway) and The Lunchbox writer-director Ritesh Batra (India) are serving as filmmaker mentors.
Funders attending include the IDFA Bertha Fund; the Hubert Bals Fund from Rotterdam; Medienboard Berlin Brandenburg; the Robert Bosch Stiftung; The Royal Film Commission of Jordan; the Arab Fund for Arts & Culture; Screen Institute Beirut; the Netherlands Film Fund and Gulf funds SANAD Film Fund and ENJAZZ, UAE as well as regional financiers Image Nation and MBC Group.
There are also 120 Qatar-based delegates attending, some of whom were involved in selected projects at the first Qumra.
The event runs through March 9, and will welcome five Qumra Masters, who will screen past films, take part in masterclasses and have bespoke meetings with the emerging filmmakers. The 2016 Masters are James Schamus, Joshua Oppenheimer, Naomi Kawase, Nuri Bilge Ceylan and Aleksandr Sokurov.
Fatma Al Remaihi, chief executive officer of the Doha Film Institute, told Screen that there weren't any significant changes to the second edition because feedback from the first event had been largely positive. The DFI is keen to ensure the event keeps its intimate size.
"It's an informal, intimate event," said Al Remaihi. "People like coming here because it's not a typical festival glitz and glamour. The filmmakers who were here last year made some really good connections to festivals, funds and producers."
DFI artistic advisor Elia Suleiman added: "It's been great the way people were talking about the first Qumra. Word of mouth helped a lot and more people want to work with us."
One change is that short filmmakers are now part of a special programme. "We noticed they needed a little more attention from people who specialise in short filmmaking," Al Remaihi said.
The industry sessions are presented in two strands: tutorials, workshops, consultations and one-on-one meetings for projects still in development; and a series of work-in-progress and 'picture lock' screenings and feedback sessions for projects in post production.
In addition to the Masters each screening a past film, the festival also screens 'New Voices in Cinema', a curated strand of DFI-backed works including shorts The Palm Tree by Jasim Al Rumaihi and Waves 98 by Ely Dagher, plus features Mediterranea by Jonas Carpignano and Roundabout In My Head by Jassen Ferhani. The screenings are also open to the public.
The festival's hub moves from last year's St Regis hotel and Katara Cultural Village (which is undergoing refurbishments) to venues around Souk Waqif and the IM Pei-designed Museum of Islamic Art, which hosts this year's screenings. Early arriving attendees have already remarked on the buzzy feel of being based at the souk and Museum of Islamic Art, which are both teeming with Qatari locals.
"We thought people would have the more authentic experience," Al Remaihi told Screen.
Qumra also kicks off as Qatar is in industry headlines after Doha-based beIN Media Group announced this week that it is acquiring Miramax.
The full list of 33 projects selected for Qumra's second edition was reported previously.
For an update on Qumra's 2015 projects, click here.