Dir: Jonathan Demme. US. 2008. 116mins.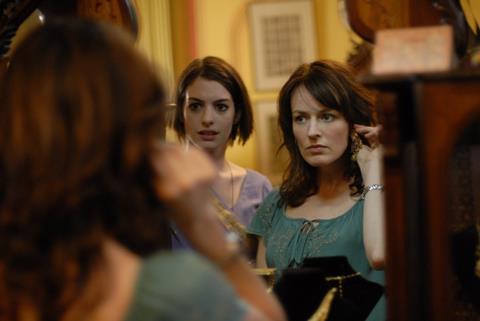 Hand-held, free-wheeling and at times joyously spontaneous, the dogme-like Rachel Getting Married sees Jonathan Demme paying tribute to Robert Altman (in particular A Wedding) but there's such a large dose of music in here it almost forms a genre of its own. Not quite, though.In its treatment of a Connecticut family with the dark hole of family loss and dysfunction at its centre, Rachel Getting Married travels familiar thematic ground from Ordinary People on up.
Packed with superb performances, in particular from Anne Hathaway in the lead roleand Debra Winger in a small supporting turn she makes memorable, Rachel Getting Married will undoubtedly be up for awards consideration in the major categories. While its two-hour running time and lengthy musical interludes may strain its commercial potential, this is a strong ticket for upscale audiences, both domestic and international, and ancillary should be decent for the same demographic.
Scripted, apparently loosely, by Sydney Lumet's daughter Jenny, with a wedding party cast shot live and comprising professionals and friends of the director (Roger Corman shot footage as a 'guest'), Rachel could have stood a trimming of either its lengthy speeches or musical elements. While both provide a necessary respite from the intense family drama element of the film, combined they could deter less staunch viewers. But with Demme devoting much of his time recently to documentary projects, this influence is strongly reflected in his first feature since 2004's The Manchurian Candidate, and the result overall feels quick-footed, assured and fresh with some bravura work from cinematographer Declan Quinn.
Hathaway vaults several stages along in her career with an intense yet sympathetic turn as the deeply-troubled, acid-tongued Kym, an actress on weekend release from her latest stint in rehab to attend her sister Rachel's (DeWitt, also strong) wedding. Kym has a fondness for drama and a need to be the centre of events. To illustrate the point, she has sex with the best man, also a recovering addict, before she even unpacks her bags, and then realises she's not the maid of honour and throws a glorious scene about it.
Sweet sister Rachel, meanwhile, resents this attention-seeking behaviour and would like her day in the sun. At the outset, there's mention of a fatal car crash and it's clear that Rachel's wedding is going to prompt an airing of the trauma that has so obviously ripped the family in shreds. Mother Abby (Winger), when she does show up, is glacially distant; she and her former husband Paul (Irwin, again strong) barely speak.
The wedding itself is a peculiar affair. Musicians throng the halls of the family's roomy Connecticut home (Rachel's groom is a black musician from Hawaii which explains their presence) and there's a hippy feel to the proceedings with the wedding party clad in Indian garb. Demme is at pains topresent the multi-racial nature of the gathering without comment but perhaps goes overboard, achieving the reverse effect - by the time the samba musicians arrive, one wonders whether this family is in thediplomatic service.
Technically, Rachel Getting Married is always alluring. The fact there's too much soundtrack is a problem but the musical element is very strong. Quinn's impressive camerawork manages to service the film rather than hog centre-stage. Given the range of techniques and media involved, editing must have been a challenge, and Tim Squyres has assembled a fluid, spontaneous-feeling end result. This seems to mark a change of direction for Demme, even though he has arrived at it gradually, and a landmark point in his feature career.
Production companies
Clinica Estetica
Marc Plat Productions
Producers
Jonathan Demme
Neda Armian
Marc Platt
International distribution
Sony Pictures Classics
Screenplay
Jenny Lumet
Cinematography
Declan Quinn
Production design
Ford Wheeler
Editor
Tim Squyres
Main cast
Anne Hathaway
Rosemarie DeWitt
Bill Irwin
Debra Winger
Tunde Adebimpe
Mather Zickel
Anna Deavere Smith
Anisa George