Jackie Chan back on top, Great Wall nears $150m.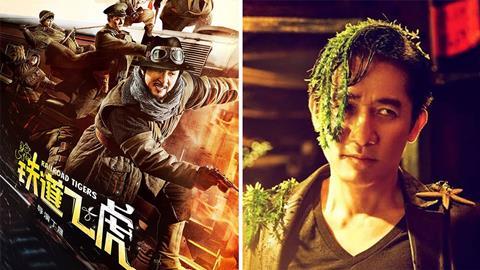 Jackie Chan's Railroad Tigers roared at the last week of 2016's Chinese box office (Dec 26 – Jan 1, 2017), taking the top crown with $39.43m for $70.62m after 10 days.
The 1940s action comedy, about a railroad worker who leads a team of freedom fighters against the invading Japanese, opened only in third place two weeks ago, after The Great Wall and See You Tomorrow. Director Ding Sheng has collaborated with Chan previously on Little Big Soldier and Police Story 2013.
Zhang Yimou's action fantasy epic The Great Wall fell to second spot with $27.96m after topping the charts for two weeks. It crossed the RMB1 billion threshold on New Year Day (Jan 1) and earned $148.02m after 17 days, surpassing Kung Fu Panda 3 as the top grossing Sino-US co-production.
New local romantic comedy Some Like It Hot opened in third place with $24.65m from its three-day opening weekend. Starring Yan Ni, Xiao Shenyang and Xiao Yang, it ranked second after Railroad Tigers on Friday before shooting to No.1 on both Saturday and Sunday.
See You Tomorrow dropped from the second to the fourth place with $21.69m for a 10-day total of $62.05m. Toplined by Tony Leung Chiu-Wai and Takeshi Kaneshiro and executive produced by Wong Kar Wai, the romance comedy marks the directorial debut of popular author Zhang Jiajia (who also scripted September table-topper I Belonged To You).
Mel Gibson's WWII drama Hacksaw Ridge held well in fifth place with $7.66m for a 25-day total of $52.47m.
Local suspense thriller Cherry Returns launched in sixth place with $3.93m from its first three days; ahead of both Russian animation The Snow Queen 2: The Snow King on $2.92m from its first two days and new local comedy Adventures of Weibaobao on $2.02m from its first four days.
The Wasted Times starring Zhang Ziyi rounded up the chart on $1.65m for $16.84m after 17 days, along with new local comedy The Insanity on $1.50m from its first three days.
Last week's box office dropped by approximately 8%, while December became yet another month of negative growth, the seventh month in 2016.
Rogue One: A Star Wars Story, dated for Jan 6, is expected to be the first Hollywood hit in 2017.