Dir: Shawn Levy. US. 2011. 127mins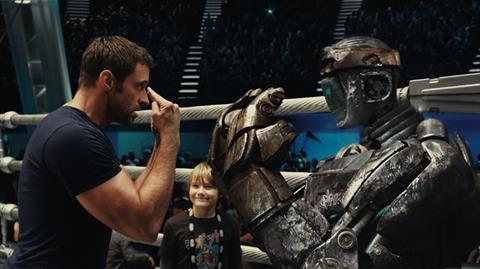 Apparently chiefly inspired by the loads of money generated by robots smashing into one another in the Transformers films, executive producer Steven Spielberg helps orchestrate more metallic mayhem in Real Steel, in which a tremendous technical polish is brought to bear upon what is frequently a rather awkward grafting of family drama and overblown, futuristic boxing tale.
Jackman's star wattage, meanwhile, remains undimmed throughout; he's a gifted performer who knows how to dispense charm and attitude in precisely calibrated fashion.
Anchored in winning fashion by Hugh Jackman, the movie bogs down in its narrative pivots but generally succeeds when it's taking swings in the ring, which should help it succeed with both younger action genre fans but especially admirers of underdog sports stories. An amiable crowd-pleaser that prefers one not dwell too long on its setting or particulars, Real Steel also loses nothing in translation, and accordingly should do quite well internationally.
Set in the near future, Real Steel centers on Charlie Kenton (Jackman), a gruff, washed-up journeyman boxer who lives out of an abandoned gym owned by Bailey Tallet (Evangeline Lilly), the daughter of his former trainer. With human fisticuffs now apparently passé, Charlie works the traveling fair and underground robot boxing circuit, piecing together low-end bots from scrap metal and grabbing unsanctioned matches wherever he can. When unexpected circumstances land him summer custody of his estranged 11-year-old son Max (Dakota Goyo), Charlie finds his natural impulsivity and moneymaking instincts severely cramped.
Max discovers Atom, though, an older, smaller robot built only for training. He convinces his dad to help fix him up, and several weeks of success on the amateur circuit apparently drums up quite the publicity, because before long Max and Charlie are offered a professionally certified fight. Against this backdrop, the cheeky Max calls for (and eventually gets, of course) a match against the overall reigning robot champion, the brutish and supposedly indestructible Zeus.
The nature of its conceit all but obliges Real Steel end with father holding son aloft in his arms, but it's of course how viewers are taken to that point that matters. While its stabs at emotionalism are sincere, the movie never once shakes free of the feeling that it owes its entire existence to external market forces.
Liberally adapting a Richard Matheson short story, screenwriter John Gatins seems to be laboring under an edict to showcase multiple robots, as if that fact alone will leave an audience thrilled. The result — in which Charlie cycles through two robots before Max rescues Atom — does little to convincingly establish any sort of substantial futuristic underpinning to the story, and also comes at the expense of both the father-son dynamic and a rather laughable and pointless relationship between Charlie and Bailey.
This first act dawdling means minimal investment in the mechanics or specifics of how Charlie and Max upgrade Atom, and the drama of familial estrangement doesn't fully connect both because Max is far more precocious than damaged and because emotional moments are given no chance to breathe, and immediately folded into functional conversations to drive the plot.
If one can shrug off the story flaws, however, the film's undeniable gloss and technical proficiency are what help keep it bobbing and weaving, allowing it to intermittently connect. In both Date Night and the Night at the Museum films, director Shawn Levy has previously had issues cogently shooting even simple action, so it's somewhat surprising that Real Steel excels in this arena.
The interplay between humans and robots is extraordinarily believable; scale is consistent, and never betrayed. Likewise, the robot battles track extremely well, and never come across as merely a tangle of special effects. In a nice meshing of character and story, Atom also features a "shadow mode" which allows the robot to imitate his owner's movements in real time.
Goyo makes a fairly nice impression, though he's playing a type more than a character. Jackman's star wattage, meanwhile, remains undimmed throughout; he's a gifted performer who knows how to dispense charm and attitude in precisely calibrated fashion. Danny Elfman's score further sweeps up viewers in the fight sequences.
Production companies: Touchstone Pictures, DreamWorks Pictures, Reliance Entertainment, 21 Laps Entertainment, Montford/Murphy
US distribution: Walt Disney Pictures
Producers: Don Murphy, Susan Montford, Shawn Levy
Executive producers: Jack Rapke, Robert Zemeckis, Steve Starkey, Steven Spielberg, Josh McLaglen, Mary McLaglen
Co-producers: Rick Benattar, Eric Hedayat
Screenplay: John Gatins, from a story by Dan Gilroy and Jeremy Leven, based on a short story by Richard Matheson
Cinematography: Mauro Fiore
Editor: Dean Zimmerman
Production designer: Tom Meyer
Music: Danny Elfman
Visual effects supervisor: Erik Nash
Website: www.SteelGetsReal.com
Main cast: Hugh Jackman, Dakota Goyo, Evangeline Lilly, Anthony Mackie, Kevin Durand, Hope Davis, James Rebhorn, Olga Fonda, Karl Yune