Israeli documentarian Ran Tal brings war photographer Micha Bar-Am's work into focus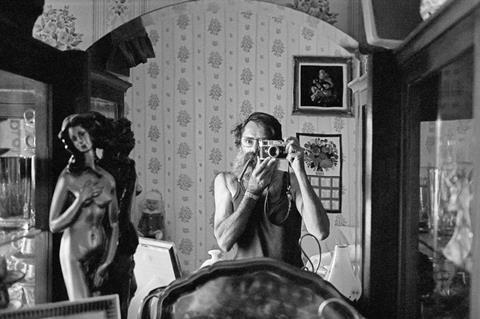 Dir/scr: Ran Tal. Israel/UK/US. 2022. 89 mins.
A living legend in a profession not exactly associated with longevity, Israeli war-photographer Micha Bar-Am looks back on his nine eventful decades in Ran Tal's persuasively admiring documentary 1341 Frames Of Love And War.
Bar-Am and his work are generally allowed to speak for themselves
Premiering in the Berlinale Special sidebar, the picture functions neatly as an accessible survey of remarkable photo-journalism, an oblique chronicle of Israel in the second half of the twentieth century, and as a warm profile of a engaging, sympathetic individual. Or make that two: Bar-Am's wife of many years, Orna, emerges vividly a remarkable person in her own right via the couple's audio-only interviews with writer-director Tal.
This is Tal's sixth feature-length film, all of them non-fiction — he is still perhaps best known for his kibbutz-focussed 2007 debut Children Of The Sun. But 1341 Frames of Love and War, which deals sensitively and intelligently with various hot-button issues relating to Israel's defence activities down the years, could put him more firmly on the map via likely play at documentary and human rights festivals in the coming months.
Tal's smartest move is to restrict the visual element of the film almost entirely to Bar-Am's own work: a myriad of his photographs are displayed, in addition to the contact-sheets which present a glimpse into his professional methods. The two main exceptions are brief home-movie extracts: the first, near the start, comprises frame-by-frame monochrome images of Bar-Am and his family in 1930s Germany; colour footage of Orna is deployed for the delicately-judged finale.
The sequencing and rhythm by which the photographs (evidently selected from many thousands of candidates) are presented thus becomes crucial, and here the sure hand of experienced editor Nili Feller — Ari Folman's regular collaborator on several projects including Waltz With Bashir — is evident. The other behind-the-scenes notables are Adam Karev, in charge of scanning Bar-Am's images, and colourist Yoav Raz, who successfully conveys the evocative hues of the maestro's exceptional colour work.
The bulk of his work, however, is black-and-white: seemingly resistant to digital advances, Bar-Am comes across as a photojournalist of the old school. As is always the case in this sub-genre — whether it be documentary, or pulse-quickening fictional counterparts such as Oliver Stone's Salvador (1986) and Roger Spottiswoode's Under Fire (1983) — the ethics of the profession come into question, here via Tal's polite but persistent probing.
Bar-Am's responses are articulate and considered, even if they yield no especially new or surprising insights into his personal codes and motivations ("you seek out danger to feel alive; I looked death in the eye but I wasn't thinking.") The one real eyebrow-raiser is when this world-weary eyewitness to history compares the 1982 massacres of Palestinians and Lebanese Shiites at Shatila and Sabra with the Holocaust. Elsewhere commentary from Bar-Am, his wife and their now-adult children make plain how much family life was sacrificed in the name of an illustrious career.
And while the protagonist is generally a chatty interlocutor — frequently interrupted, corrected or scolded by his wife — there are certain subjects which Bar-Am flatly refuses to discuss, and others where he frankly admits that his faulty memory is now failing him. Given his numerous scrapes with death, of course, it's a small miracle Bar-Am is even around at all; the makers of 2017's Hondros, about the tragically ill-fated war-photographer Chris Hondros, were not so fortunate.
Tal weaves in several instances of candid chat between himself and the Bar-Ams, giving 1341 Frames of Love and War a pleasantly rough-edged feel even if the presentation of the photography itself is consistently slick. Bar-Am and his work are generally allowed to speak for themselves: Tal occasionally embellishes the images with sound-effects and foley-work; variable results accrue.
Musical cues are deployed with restraint and mostly pull their weight, though the attempt to evoke the late sixties by means of Jefferson Airplane's 'White Rabbit' — via an Emiliana Torrini cover from Zack Snyder's Sucker Punch, of all places — smacks incongruously of cliché.
Production company: Grapevine Shoot Productions
International sales: Reservoir Docs, doc@reservoirdocs.net
Producers: Sarig Peker, Ran Tal
Editing: Nili Feller
Cinematography: Ran Tal