Toa Fraser directs Jamie Bell as a SAS leader during the 1980 siege of the Iranian Embasssy in London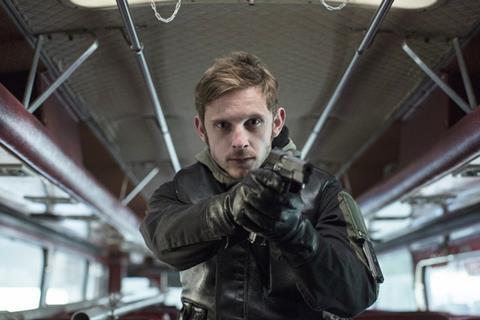 Dir: Toa Fraser. UK/NZ, 2017. 94 mins.
Hewing strictly to its title, this blandly efficient thriller tells of the six days in 1980 during which terrorists held hostage to the Iranian Embassy in London. Executed in countdown mode, which allows for little in the way of character development, Toa Fraser's film is notable for its technically adept and surprisingly thrilling finale, given the outcome is well known: there is a payoff here, even if the film does come across like an oddly nostalgic ode to the hard-line stance of Britain's 'Iron Lady', Margaret Thatcher.
Glenn Standring's screenplay does not allow for much time spent with either the 26 hostages or their captors
Part of the Icon sell-off in the UK, 6 Days enjoyed a blink-and-you'll miss it late-August release through Vertical Entertainment in the US. It has been taken up by Netflix in multiple territories (including the UK) as a 'Netflix Original', getting a moment to shine at the London Film Festival this week before starting its cable life. Shot in New Zealand and London by Fraser (The Dead Lands), 6 Days stands out due to its final-hour technical fireworks and as another opportunity to watch Jamie Bell firmly establish himself as an adult actor with a powerful screen presence (see also Film Stars Don't Die In Liverpool). VOD is a suitable home for a film which will have more resonance for those who lived through those titular 6 Days.
Dramatically, this treads the same ground as Argo, and, unsurprisingly, comes off lacking its predecessor's punch. An efficient prologue sets us in a London of 1980 where the tough, no-nonsense Thatcher is newly come to power. Roused by events in the Middle East, an Iraq-backed terrorist group storms the Iranian Embassy in chi-chi Princes Gate, Kensington. They take hostages including an armed policeman and a BBC reporter, and threaten to kill one every hour unless their demands are met.
Glenn Standring's screenplay does not allow for much time spent with either the 26 hostages or their captors, who are depicted in very broad strokes (as is their cause, which is sovereignty for Iran's Khuzestan Province). Other sequences are set in Westminster strategy meetings with the late Tim Pigott-Smith as William Whitelaw, Thatcher's right-hand-man. The lion's share of screentime, though, goes to Mark Strong as hostage negotiator Max Vernon, and SAS lance corporal Rusty Fermin (Bell). Surprisingly, unless it allowed for some funding, a rigid Abbie Cornish is cast as BBC reporting icon Kate Adie; for all that she gets to do, archival footage would surely have sufficed.
Strong brings his usual depth and calmness to the role of Vernon, although scenes with a housewife and daughters seem tokenistic. Production design is pleasingly specific, and the seams don't show between the New Zealand and London elements of the production. Fraser and Standring have made a clear decision to focus on the nuts and bolts of the preparations for this landmark SAS operation, in the hopes that it will pay off when Bell's Rusty Fermin leads his team into the building in broad daylight. It does, but it's a big gamble to take.
With Argo so successful, there's a curiosity about why Six Days has been made, and now. Perhaps it was simply an attempt to cash in by matching the American hostage rescue with a British tale of derring-do. Thatcher's hard-line response to terrorism, though, and her willingness to kill them all and not look back, also plays into a certain right-wing nostalgia, given the times we live in. That, above anything else, makes 6 Days an uncomfortable watch.
Production company: Dog With A Bone Productions
International sales: XYZ Films
Producer: Matthew Metcalf
Executive producers: : Nate Bolotin, Ian Dawson, Peter Hampden, Norman Humphrey, Gavin Poolman, Andrea Scarso, Glenn Standring, Aram Tertzakian
Screenplay: Glenn Standring
Cinematography: Aaron Morton
Production design: Philip Ivey
Editors: Dan Kircher, John Gilbert
Music: Lachlan Anderson, David Long
Cast: Jamie Bell, Mark Strong, Abbie Cornish, Martin Shaw, Emun Elliott, Tim Pigott-Smith