As cosy as a zip-up cardigan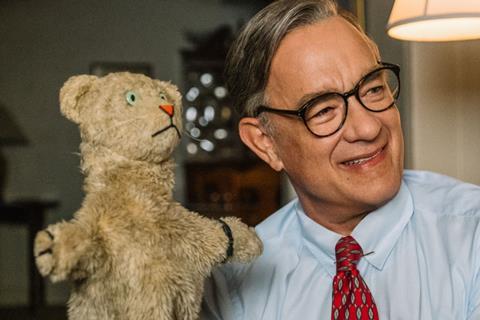 Dir: Marielle Heller. US. 2019. 107 mins
It's as cosy as Mr Rogers' trademark zip-up cardigan, but the sweetness of this film about the beloved US children's television personality is tempered by the inventive eccentricity of its approach. Inspired by a profile in Esquire written by Tom Junod, A Beautiful Day… side-steps any attempt to get under the skin of its subject, concentrating instead on the idea of Mr Rogers (played by an appropriately twinkly Tom Hanks) and what he represented to several decades of American children. It's a group therapy session of a movie which delivers its folksy wisdom with a song and a smile.
The laser-focussed niceness that was Mr Roger's USP can seem a little disconcerting to those not accustomed to it
As such, it won't be for everyone. The laser-focussed niceness that was Mr Roger's USP can seem a little disconcerting to those not accustomed to it. But even in territories where audiences are unfamiliar with Fred Rogers' hokey appeal, the film's humour, its amiable charm offensive and its gentle weirdness should disarm all but the most cynical. The simplicity of the message – like Rogers' TV shows, the film takes big themes and breaks them down into manageable components – belies the formally playful filmmaking with which Marielle Heller pins down her elusive subject.
Lloyd Vogel (Matthew Rhys) has a low opinion of humanity. He is not the most obvious choice of journalist to send to write a profile on Mr Rogers, a man who has made a career out of tapping into his vast reserves of childlike wonder and enthusiasm. It doesn't help that Vogel is at a particularly low ebb. A new father to a baby son, he was, until recently, estranged from his own Dad (Chris Cooper). The scars in their relationship remain unhealed. His first encounter with Fred Rogers leaves Vogel confounded. Mr Rogers is bathed in the contented peachy glow of the studio lights; Vogel, peering from the shadows, has the crumpled grey skin tone of a long abandoned sock at the bottom of the laundry basket.
A second encounter sees a spontaneous mass singalong on the Manhattan public transport system. Vogel has the twitchy wild-eyed look of a man who has just realised he is surrounded by a religious cult. But he finds himself opening up to Mr Rogers
Tom Hanks slips into the role of Fred Rogers like a pair of particularly snug slippers; it's a perfect fit for his benign presence. But it's Rhys who dominates the film, with a fine, fractured performance as a man who can't bring himself to forgive the sins of his father.
Heller's filmmaking is a patchwork quilt of influences from Mr Rogers himself. She uses an imagined episode of the show as a framing device; takes musical inspiration from Rogers' own compositions and puts a miniature Vogel in rabbit ears, enforcing a bonding moment with Mr Rogers' puppets. And, like Rogers, she is not afraid of silence, stillness and reflection. In one oddly moving moment, Mr Rogers invites Vogel to share a few seconds of quiet to take stock of the people whose love surrounds him.
And, by including a shot in which Hanks locks eyes with the camera, the audience is included in this exercise. And here's the curious thing – rather than take us out of the film by asking us to look into ourselves, the scene has the opposite effect. The audience is drawn further into the warm, inclusive embrace of Mr Rogers.
Production company: Tristar Pictures
Worldwide distribution: Sony Pictures
Producers: Youree Henley, Peter Saraf, Marc Turtletaub, Leah Holzer
Screenplay: Noah Harpster, Micah Fitzerman-Blue
Production Design: Jade Healy
Editing: Anne McCabe
Cinematography: Jody Lee Lipes
Music: Nate Heller
Main cast: Tom Hanks, Matthew Rhys, Susan Kelechi Watson, Chris Cooper, Enrico Colantoni, Tammy Blanchard