Dir. Darren Thornton. Ireland, 2016, 82 mins.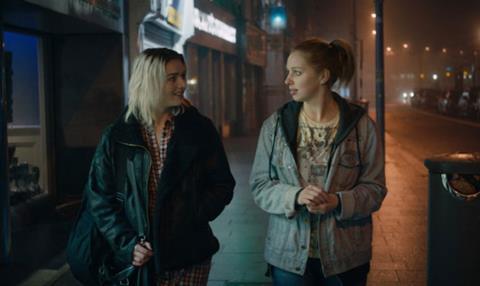 The romantic comedy ain't what it used to be; these days you're more likely to find it shyly lurking around a festival catalogue than in a wide-release studio package. Irish lovely A Date For Mad Mary gets the modern meet-cute just right – that it takes place between two women, one an ex-con, seems incidental while you're watching it but in retrospect hits a perfect note for 2016 audiences. Mary's "madness" isn't linked to her sexual preference and it won't be fixed by it either. For his debut, Darren Thornton delivers the love child of Weekend and Once, with Seána Kerslake (Dollhouse) delivering a breakout performance.
Mad Mary is a special girl indeed
"Mad" Mary - as in mad, bad and dangerous to know, as opposed to insane – was backed by Element Pictures and launched at Karlovy Vary/Galway this summer before being picked up by Mongrel at Toronto. A Euros200,000 tally at home has been followed by a London Film Festival launch. All this should pave the way for Thornton's amiable-yet-edgy film to be initially embraced by LGBT audiences before going on to a wide, international viewership. Whether that happens in the theatre or at home is the only question, but word of mouth should be strong, whatever the format.
Adapting Yasmine Akram's stage play (which he also directed) with his brother Colin, Thornton takes us straight into small-town Drogheda, north of Dublin, on the day of Mary's (Kerslake) relase from prison after a six-month-jail sentence for GBH. Mary hates the world and, after some strenuous efforts on her side, the world is returning the favour– especially the bouncers at the local nightclub where she routinely turns up drunk and looking for trouble. Shrugging her mother (Fionnuala Murphy) and family aside for an ever-present can of cider, Mary's life's hopes are intensely pinned on her childhood best friend Charlene (Charleigh Bailey).
Charlene, though, has clearly moved on: she's about to be married and Mary is, excruciatingly, an embarrassment – phone calls and texts go unanswered as maid of honour Mary desperately tries to write her heart-felt wedding speech. (Her loving attempts to describe Charlene's qualities stand in sharp contrast to Mary's belligerent attitude to everyone else she encounters.) Despite her status as maid of honour, though, bridezilla Charlene has sidelined her erstwhile BFF to the point where Mary has to take the Stellan Skarsgard role in a raucous Mamma Mia! hen-night.
Alone and desperately lonely, even if she's unwilling to admit it, Mary sets out to find herself a date to bring to the wedding. It's a task which would be hard enough given her general anti-social attitude, but is complicated when she meets singer Jess (Tara Lee) and all Mary's "mad" emotions boil over.
Set in Ireland's recent past, A Date for Mad Mary doesn't try to soft-pedal biting local humour, accents or language in a bid for wider acceptance, and the end result is stronger as a result (there's a clear Roddy Doyle influence at play here, and a much sharper, astringent perspective than the recent Sing Street). Mary's passionate frendship for Charlene isn't related to her confusing feelings for Jess because, as the Thornton brothers show, life is complicated and sex isn't always the question or the answer.
Seana Kerslake should find many doors banging open after her committed performance here. At times un-readable, her face can also suffuse with all the emotions that a tongue-tied girl can't express as she's yanked into coming of age. Camerawork by Ole Bratt Birkeland works soft wonders with the nondescript backstreets of Drogheda although, like the rest of the fim's technical credits, the work is un-showy and non-sentimental. Thornton also holds back when it comes time to deal with the offence that put Mary in prison in the first place.
Yet when the film swings onto Kerslake's confused features, or Lee's wistful performances, all the script's love and longing come alive. Mad Mary is a special girl indeed.
Production companies: Element Pictures
International sales: Mongrel International
Producers: Juliette Bonass, Ed Guiney
Executive producers: Andrew Lowe, Emma Norton, Mark Byrne, Rory Gilmartin
Screenplay: Colin Thornton, Darren Thornton, based on the play by Yasmine Akram
Cinematography: Ole Bratt Birkeland
Production design: Kieran McNulty
Editor: Tony Cranstoun, Juangus Dinsmore
Music: Stephen Rennicks, Hugh Drumm
Main cast: Seana Kerslake, Tara Lee, Charleigh Bailey, Denice MacCormack, Siobhan Shanahan