The second feature from Louis Garrel is a romantic comedy co-starring Laetitia Casta and Lily-Rose Depp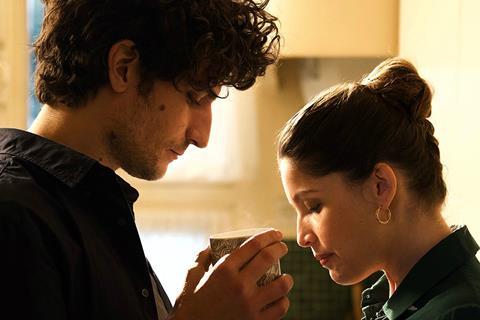 Dir: Louis Garrel. France. 2018. 75mins
A Faithful Man is a pleasant confection whipped up by director, co-writer and star Louis Garrel, who plays a heartbroken man who gets a second chance with his true love — only to discover there's baggage attached. Indicative of its brief 75-minute run time, this droll, very slightly ominous romantic comedy has little substantial to say about grief, regret, attraction or commitment, but the impish mood and delightful ensemble (including Laetitia Casta and Lily-Rose Depp) bring flavour and spice.
In a sense, everyone in A Faithful Man is still attached to a dead man the audience never gets to know
Debuting in Toronto, A Faithful Man boasts some star power, and international audiences looking for a witty Parisian rom-com will happily indulge in this cotton-candy concoction. (The movie is set to be released in France on March 20, 2019.) And cinephiles may be intrigued that Garrel's co-writer is legendary French screenwriter Jean-Claude Carrière.
As the film begins, journalist Abel (Garrel) is having a conversation with his long-time girlfriend Marianne (Casta), who has news for him: she's pregnant — and the child isn't his. (For about a year, she's been having an affair with his friend Paul.) Marianne impetuously announces that she and Paul are getting married, throwing Abel's life into chaos.
Cut to about a decade later: Abel has rebuilt himself, although he has never found anyone who entranced him the way Marianne did. Just then, she returns to his orbit when Paul dies of a heart attack, a spark rekindling after they see each other at the funeral. But once they decide to give their love affair a fresh start, her son Joseph (Joseph Engel) confronts Abel with a shocking secret.
Garrel's second feature — he previously directed 2015's Two Friends — makes good use of the actor's soulful eyes and melancholy essence. But Abel isn't the only character struggling with despondency: A Faithful Man allows each of its participants (including Paul's younger sister Eve, played by Depp, who has long nursed a crush on Abel) to articulate their individual perspectives through voiceover. For Abel, reuniting with Marianne feels like a dream come true, but he'll quickly realise that Paul's death hasn't come close to erasing him from her life — or the lives of those around her. In a sense, everyone in A Faithful Man is still attached to a dead man the audience never gets to know.
The movie hints at storm clouds on the horizon — Paul's death may not be as cut-and-dried as initially believed, and Eve won't sit by and let Marianne have Abel without a fight — and Garrel orchestrates the juicy twists with a nonchalance that suggests we shouldn't necessarily invest too much in the outcome. Instead, A Faithful Man seems to be content playfully ruminating on how matters of the heart consume people — and how, sometimes, pursuing someone can be more fulfilling than actually possessing them.
Casta brings intelligence and sophistication to her role, easily sidestepping a potential initial problem that Marianne might seem unsympathetic since she cuckolds her adoring boyfriend to have a child with another man. But in short order, the actress demonstrates how Marianne has remained conflicted about her choices, which have impacted her life more profoundly than they have anyone else. Depp is saddled with a thinly conceived role, but the surprise is Engel, who makes Joseph A Faithful Man's wild card. There are surprises and dark rumblings in this largely light-hearted film, and Garrel shows full confidence in his young cohort to shoulder the dramatic load. The boy rewards his faith.
Production company: Why Not Productions

International sales: Wild Bunch, sales@wildbunch.eu
Producers: Pascal Caucheteux, Gregoire Sorlat
Screenplay: Jean-Claude Carrière & Louis Garrel
Production design: Jean Rabasse
Editing: Joelle Hache
Cinematography: Irina Lubtchansky
Main cast: Laetitia Casta, Lily-Rose Depp, Joseph Engel, Louis Garrel