Dir/scr. Tom Fassaert. Holland, 2015, 121 mins.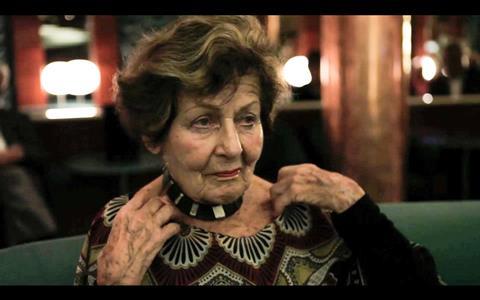 Dutch director Tom Fassaert (An Angel In Doel) trains his camera on his own challenging clan in IDFA opening film A Family Affair, a sad-hearted story of an unhappy family which he ultimately finds impossible to explain, blocked at every door by the disturbing, tiny figure of Marianne Hertz, his domineering, flirtatious 95 year-old grandmother.
"There is no such thing as the truth. You will never find what you are looking for."
A Family Affair knows what its central sadness is, but will never know why. And, until her death, the quixotic and unstable, impeccably turned-out Marianne will refuse to give any of her relatives closure, no matter how hard they beg. Sold internationally by Roco Films, A Family Affair is by turns fascinating and futile, running the risk that by exposing the heartbreak of one family it will repel all those with their own unresolvable family sadness. A Family Affair's length and this lack of answers could make it a challenge for general audiences, yet festivals should certainly sign on for the trip.
German-born Marianne Hertz is clearly the architect of her children's problems, although the exact details of what transpired in the past are murky. What's even less clear is what brought her to the point where her adult son would write: "You have no empathy with humans or animals, unless it is in your own interest". It is certain that Fassaert's kindly father Rob and his older brother Rene were abruptly placed in a home when Rob was three years-old. (There is also a sister, who does not speak on camera). They have no real memory of their father. Just as abruptly, two years later, Marianne returned, solo, and carried on as normal, although Rob pinpoints this as the time everything changed. Why?
Beautiful and spirited, Marianne worked as a model; a newspaper headline from the 1950s calls her "Marianne Hertz: Model And Perfect Mother". But the happy family portraits give the lie to what really took place. Rene, who appears to be autistic, has clearly been permanently damaged by his mother's bullying tirades, although he lives an independent life now. And Rob has soldiered on, a dutiful son with very little expectations of his mother – Tom, flirting with hubris, is the only one who seems to think he'll get to the bottom of her.
Marianne, meanwhile, has emigrated to South Africa without her family, and various attempts at reconciliation have fallen apart. She has commissioned a book to be written about her 'double life' initially by Rob and then, following the rift, by a private author. Beyond this, details are vague.
Marianne holds the centre of the film, but she's a conflicted figure, alternately monstrous and frail. She would have been a powerful, scarring, adversary in her day; now she's a flirtatious, needy, dangerous old bird, sucked dry by life but still full of poison. She makes A Family Affair an entirely memorable film, and it's easy to see why Fassaert was drawn to her challenge.
Like many documentaries of this nature, there's much footage of the cameraman captured in bathroom mirrors and occasional reflections, and Tom Fassaert is a big vocal presence in his own film. Early on, when his worn-out father has finally broken with Marianne via email, and 'Tom' is left alone with her in her South African compound, she decides to re-draw her legal documents in favour of her grandson. She loves Tom, in every possible way and Tom, because he doesn't want to risk the film, agrees.
One wonders even at this point whether Tom's film is going to be worth the moral compromise; and pretty soon it becomes clear that Marianne will never give him what he wants. ("I want to know what went wrong," he says. "That's your problem," she replies. "There is no such thing as the truth. You will never find what you are looking for.") In today's society, where the over-riding belief is that the truth will set you free, that's a bitter pill indeed. And for Fassaert's documentary, it's an open ending, which will never now be shut.
Production company: Conijn Film
International sales: Roco Films, www.rocofilms.com
Producer: Wout Conijn
Cinematography: Tom Fassaert
Editor: Claudio Hughes