A satisfying slow burn drama from Japan's Koji Fukada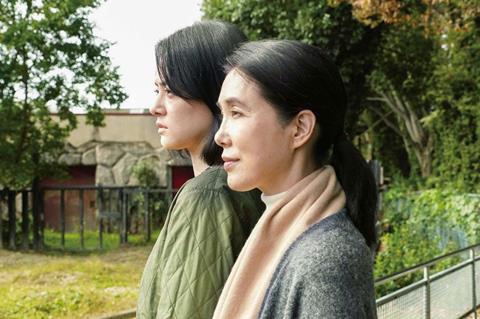 Dir-scr: Koji Fukada. Japan-France. 2019.111mins.
A deft and absorbing multi-pronged tale about a kind, hard-working woman whose life becomes a morass of collateral damage, A Girl Missing is satisfying slow-burn drama expertly told. Time-hopping puzzle pieces fall into place with exquisitely deployed skill as we witness the declining fortunes of Ichiko (Mariko Tsutsui), a home-care nurse who has nothing whatsoever to do with the abduction of a schoolgirl she tutors and yet gets caught up in the crime and its aftermath. Writer-director Koji Fukada (Harmonium) makes his protagonist's dilemma deeply Japanese and yet easy to identify with, a combination that bodes well for distribution worldwide after its Locarno premiere in Competition.
How does an individual exact revenge against a cruel twist of fate?
We first meet Ichiko when she shows up at a beauty salon to have her hair dyed. Chatting with the hairdresser, she reveals that she's a widow who recently quit her job and is looking for a change. Flashbacks to Ichiko's prior circumstances show her working for a nursing agency where a regular client for her compassionate visits is a three-generation home where Ichiko helps with the ailing cancer-stricken grandmother, a landscape painter with a modest degree of notoriety. The grandmother's daughter and two granddaughters also live there. Ichiko tutors the sisters, the older Motoko (Mikako Ichikawa) and young teen Saki (Miyu Ogawa).
It's clear that the girls adore Ichiko and value her help. One evening Saki goes from their informal tutoring session in a cafe to a "cramming" event, failing to return home that night.
Saki's disappearance is soon all over TV. The presumed culprit, when arrested, turns out to be a relative of Ichiko, whose first impulse is to go to the police. But Motoko advises her to stay out of it. That means not informing her employer or her fiance, a doctor with a young son who Ichiko dotes upon.
As the investigation progresses, little details are distorted or blown out of proportion. Aggressive TV and print reporters start hounding Ichiko. Is there a way to extricate herself from a grossly unfair web of guilt-by-association? Tsutsui's wide-ranging performance anchors every scene in this tentacular and well-cast venture. Ichikawa is a stand-out as well.
The film does a superb job of showing just how insidious unconsummated longing or a stray confidence taken out of context can be. Why is society so primed to think the worst and continue to harass in the name of the public's alleged right-to-know? Interestingly, the film concentrates on the power of TV, magazines and newspapers rather than social media.
It is said that "revenge is a dish best served cold." But how does an individual exact revenge against a cruel twist of fate? When to pour one's heart out and when to keep things to oneself are questions that loom large in the lives of the characters. But the film has broader aims in showing how destructive "gotcha journalism" is. Among cinematically and emotionally memorable moments, there is a devastating scene that spotlights what happens when society — and not the person involved - gets to define what constitutes a victim.
Production companies: Kadokawa Daiei Studio, Tokyo Garage, Comme des Cinemas
International sales: Kadokawa (Asia, Middle East)/MK2 films intlsales@mk2.com
Producers: Kazumasa Yonemitsu, Anne Pernod, Naohiko Ninomiya, Daisuke Futagi, Hirohisa Mukuju, Masa Sawada
Production design: Yasuaki Harada
Editor: Koji Fukada
Cinematography: Kenichi Negishi
Music: Hiroyuki Onogawa
Main cast: Mariko Tsutsui, Mikako Ichikawa, Sosuke Ikematsu, Hisako Ookata, Miyu Ogawa, Mitsuru Fukikoshi