Oscar-winning documentarian Barbara Kopple follows Collier Landry in his search for the truth about his mother's murder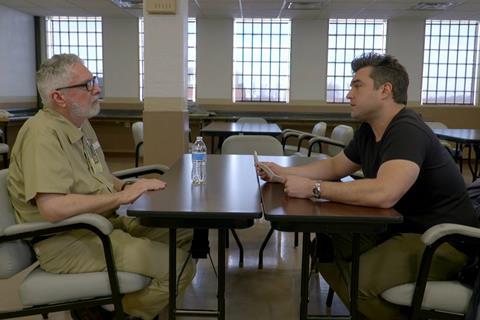 Dir: Barbara Kopple. US. 2017. 84 mins
Collier Landry was just 12 years-old when he took the witness stand in his hometown of Mansfield, Ohio, to testify against his father, John Boyle, who stood accused of murdering his wife, Noreen. As Collier, now in his late 30s, returns to his hometown over two decades later, along with Oscar-winning documentary filmmaker Barbara Kopple (Harlan County USA, American Dream), his search for the truth becomes a insightful and sensitively-handled exploration of how a single event can leave an indelible psychological mark.
Unlike other similarly-themed documentaries, the focus of A Murder In Mansfield is not on the whodunnits
With modern real-life crime documentaries like Making A Murderer, The Jinx and The Keepers proving huge hits with audiences, A Murder In Mansfield should garner some attention following its world premiere at DOC NY, after which it will travel immediately to IDFA. While its limited scale may make theatrical play unlikely, the undeniably salacious subject matter coupled with Kopple's expert approach and Collier's own likeable screen presence could see this strike a rich seam of interest on the small screen.
The film opens with archive courtroom footage from 1990, as Collier testifies about the events of December 31, 1989; the night on which his father killed his beloved mother and buried her in the basement of the home he was planning to move into with his pregnant girlfriend. Confident and articulate in a way that belies his young age, Collier remains composed as he describes his father's violent demeanour and the sounds he heard that evening as he lay, terrified, in his bed.
An impassive John then takes the stand to assert that, following an argument, his wife fled the house that night and drove away in an unknown car to meet her fate at the hands of an unknown assailant. Despite his claims of innocence, however, John is found guilty of Noreen's murder and sentenced to life imprisonment; he remains incarcerated to this day.
Unlike other similarly-themed documentaries, the focus of A Murder In Mansfield is not on the whodunnits; while John may deny his guilt, the film includes plenty of evidence to the contrary, including commentary from lead detective David Messmore and graphic footage of the case file — which Collier confronts for the first time, with remarkable bravery. Now living in LA as a cinematographer and filmmaker, Collier explains early on that he's interested in the "collateral damage of violence", and so embarks on an exploration of the shockwaves of trauma that emanate from such a violent event. He follows the ripples as they fan out to affect all those connected with case; from sister Elizabeth (who, like Collier, was adopted immediately after the murder and who he hasn't seen since) to Noreen's family and friends, local police detectives and neighbours in the small community.
Collier, of course, is at the epicentre of it all, still struggling to come to terms not only with his father's actions, but his subsequent behaviour over the years; letters sent from his imprisoned parent range from the sycophantically fawning to the openly manipulative and downright cruel. But, after all that has happened, Collier acknowledges that he is still seeking his father's affection and approval and, while the final reel face-to-face conversation between the two remains calm, it is fraught with everything that has come before.
By this point, however, the details of the case have become secondary to Collier's hard-fought battle to move on with his own life and, despite its tabloid-esque title, the documentary emerges as a celebration of the triumph of the human spirit against overwhelming odds.
Production company and contact: Cabin Creek Films info@cabincreekfilms.com
Producers: David Cassidy, Ray Nowosielski, Barbara Kopple, Maureen Dougherty, John Morrissey
Executive producers: Collier Landry, Diana Sperrazza
Cinematographers: Gary Griffin, Tony Hardmon
Editor: Rob Juhns
Featuring: Caleb Landry, John Boyle, Lt Dave Messmore, George Zeigler, Susan Zeigler