A daughter watches her father transition in this carefully-observed debut, winner of Rotterdam's Big Screen award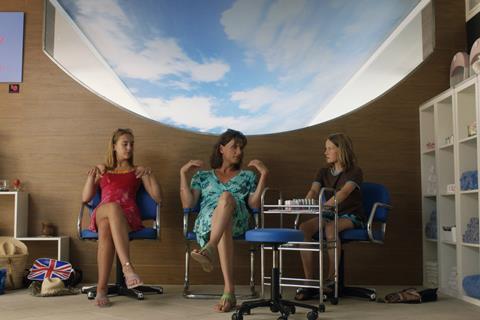 Dir. Malou Reymann. Denmark. 2020. 93 mins
A husband and father's decision to transition to female is viewed through the eyes of his younger daughter in this sensitively handled first feature from Malou Reymann. Inspired by the director's own family experience, the picture is perceptive in its examination of a child's complicated journey, but doesn't require us to be entirely sympathetic to her parents' handling of the situation.
A film which acknowledges that children can love a parent and respect their decision, while still suffering from the fallout of that choice.
This solid domestic drama might not approach its themes in a particularly adventurous way – it lacks the formal playfulness of something like 52 Tuesdays or the visual flare of All About My Mother – but it does bring real emotional credibility to the story. A Perfectly Normal Family should play at further festivals, where it will be of particular interest to programmers of LGBTQ themed events. As the winner of Rotterdam's Big Screen Competition, it is guaranteed a supported release in the Netherlands, and could enjoy minor arthouse success elsewhere.
Reynann's unshowy direction places emphasis on the quality of performances. And in Kaya Toft Loholt, who persuasively explores the complex emotions of ten-year-old Emma, the picture has a considerable asset. Less successful is Mikkel Boe Folsgaard, who isn't entirely convincing in the tricky role of Emma's dad, Thomas / Agnete. The decision to cast a male actor rather than a trans woman may draw criticism, although Reymann argues that her casting choice was mindful of the danger that playing a character who is initially male might be traumatic for someone who has transitioned.
Emma's close relationship with her father is revealed in the home video footage which punctuates the picture. Thomas has instilled a love of football in his younger daughter. Soccer – watching it, playing it and talking about it – is their shared passion. And while her older sister Caroline finds a deeper kinship with her father after the transition, tomboy Emma can't help but mourn the loss of a male role model and confidante.
Interestingly, Agnete's approach to gender seems to grow increasingly binary post-transition. She buys her daughters pretty sarongs as presents. Emma recoils from her gift: "You know I don't like pink." Worse is Agnete's denial of soccer. "I don't understand football," she simpers to a mother at a holiday resort. For Emma, the words cut like a betrayal.
Where Reymann's personal connection with the material is most evident is in the unsensational approach to the everyday issues and misunderstandings thrown up when a loved one decides to transition. A mediated therapy session for the family is a minefield. Emma blindfolds herself with a scarf rather than see her father as a woman; her mother's well-meaning suggestion – a parting ceremony in which the family says goodbye to "Thomas" - is met with fury from Caroline, who accuses her mother of essentially killing off her father.
Meanwhile, the perspective of the mother, Helle (Neel Ronholt) is rather sidelined for much of the film, a curious omission in a picture which is so diligent about its truthful representation of family dynamics. Those dynamics remain knotty to the end, in a film which acknowledges that children can love a parent and respect their decision, while still suffering from the fallout of that choice.
Production companies: Nordisk Film Production, Orange Valley Production
International Sales: New Europe Film Sales kat@neweuropefilmsales.com
Producers: René Ezra, Matilda Appelin
Screenplay: Malou Reymann, Maren Louise KAehne, Rune Schjott
Editing: Ida Bregninge
Cinematography: Sverre Sordal
Production Design: Sabine Hviid, Kristina Kovacs
Main cast: Kaya Toft Loholt, Rigmor Ranthe, Mikkel Boe Folsgaard, Neel Ronholt, Kristian Halken, Jessica Dinnage, Hadewych Minis